Epsylon Point is a French artist, he was born in 1950. He graduated from Ecole Nationale Superieure des Beaux-Arts in Dijon, he obtained his diploma in visual expression in 1978. Due to his thirst of knowledge, Epsylon Point not only worked as a guitarist, but aircraft mechanic and traveled to India for 6 months before moving to Turin, Italy a few years. Early 1990s, he came back to Paris.

When he discovered spray paint, it led him to painting. In 1979, he covered Montpelier with enigmatic sentences like his famous ones "Well yes!". Stencil became part of his works in the form of torn posters, maps and walls. He has a passion for anarchism, Epsylon Point refuses to be part of a category, a norm or an era. He injects connotations or societal and sexual questions.

"Shimmering eyes, a mocking look. Stencil is a part of his "unique lifestyle': during middle ages he would have been troubadour. Fan of comics and street, stencil allowed him to combine the two passions, and he was delighted..." one can read this in the book "Vite Fait Bien Fait" by Nicolas Deville, Marie-Pierre Massé, and Josiane Pinet.

Epsylon Point regularly exhibits in several spots for example, the Agnes B Gallery for the exhibition
« Évènements pochoir ». In 1985 he took part in the first gathering of the graffiti and urban art movement in Bondy, with Miss Tic, Blek le rat, Jef Aerosol, Futura 2000…Two years later, during the 10th anniversary of Center Pompidou, Epsylon Point was one of the 95 artists who were part of the « Free Art, l'année Beaubourg » exhibition at Free-Time on Saint-Martin Street.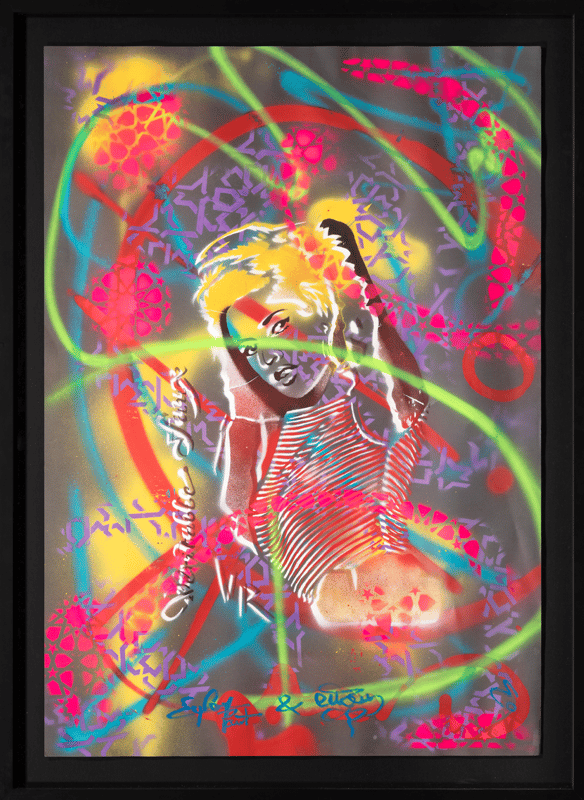 Bardot, 2021
Spray and stencils on paper - One of a kind original artwork
100cm x 70cm
available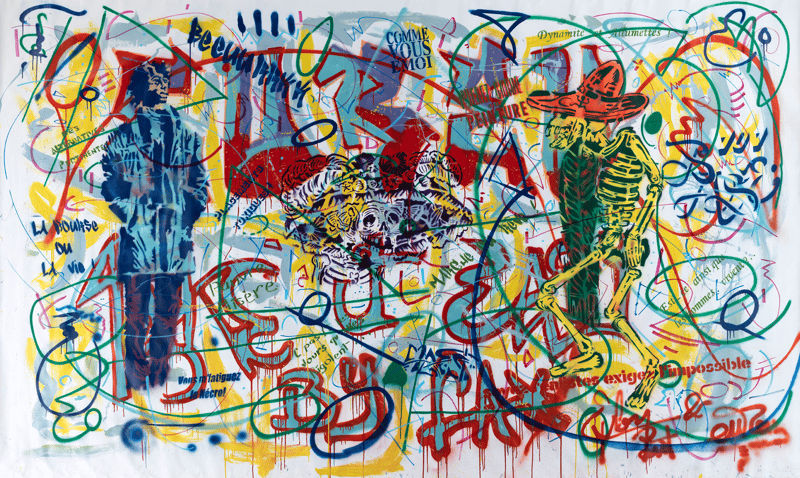 Dynamite et allumettes, 2020
Spray and stencils on canvas - One of a kind original artwork
220cm x 354cm
available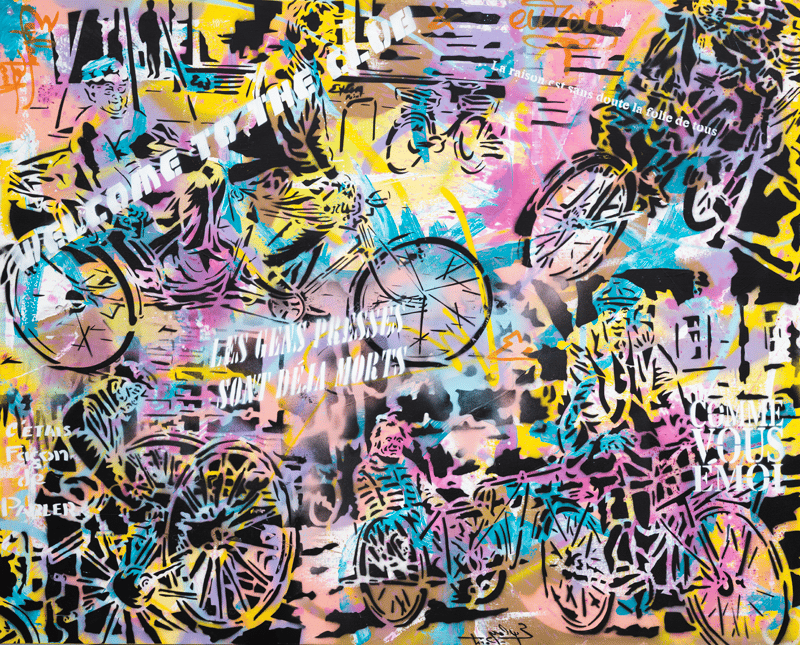 Enfin les vacances, 2020
Spray and stencils on canvas - One of a kind original artwork
114cm x 146cm
available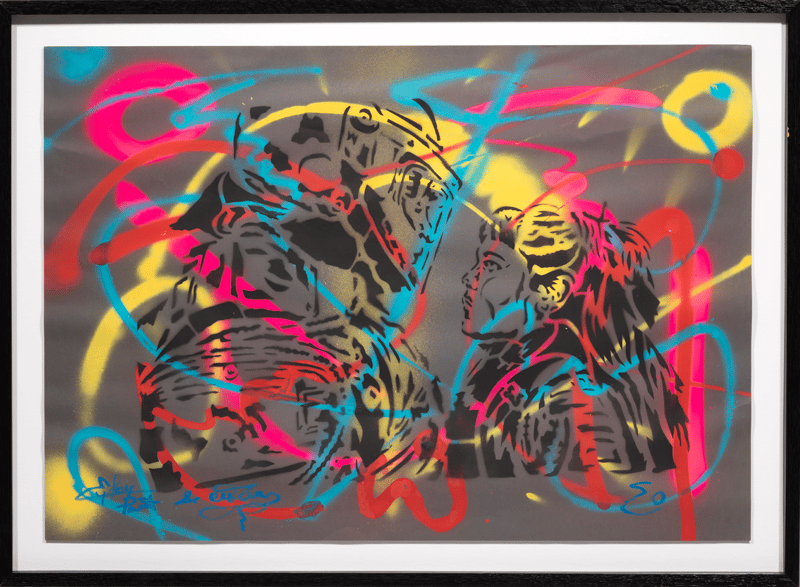 Face à face, 2021
Spray and stencils on paper - One of a kind original artwork
70cm x 100cm
available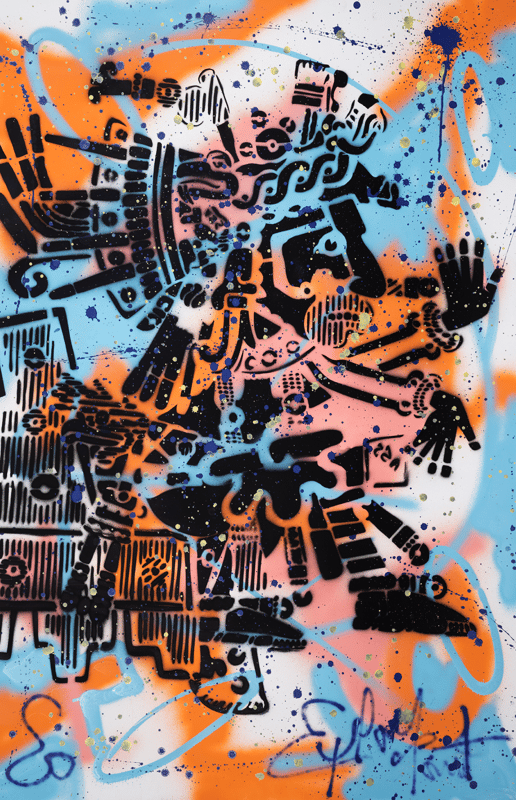 Force incantatoire, 2022
Spray and stencils on paper - One of a kind original artwork
120cm x 80cm
available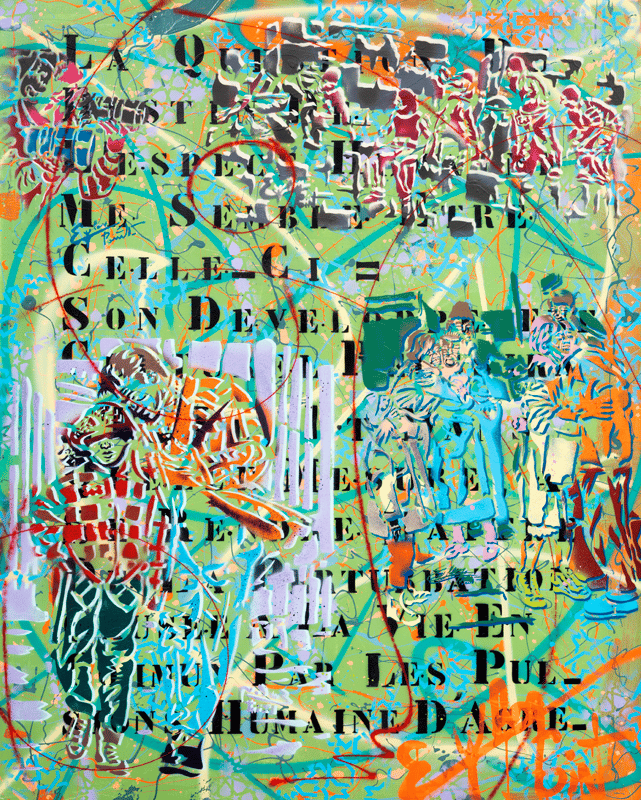 Hommage à Freud, 2020
Spray and stencils on canvas - One of a kind original artwork
146cm x 114cm
available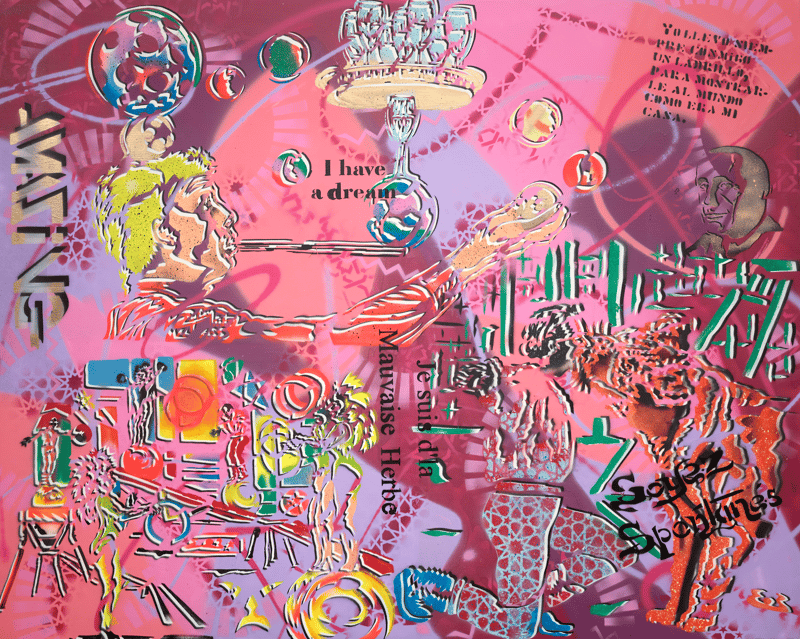 Jeu de cirque, 2020
Spray and stencils on canvas - One of a kind original artwork
130cm x 162cm
available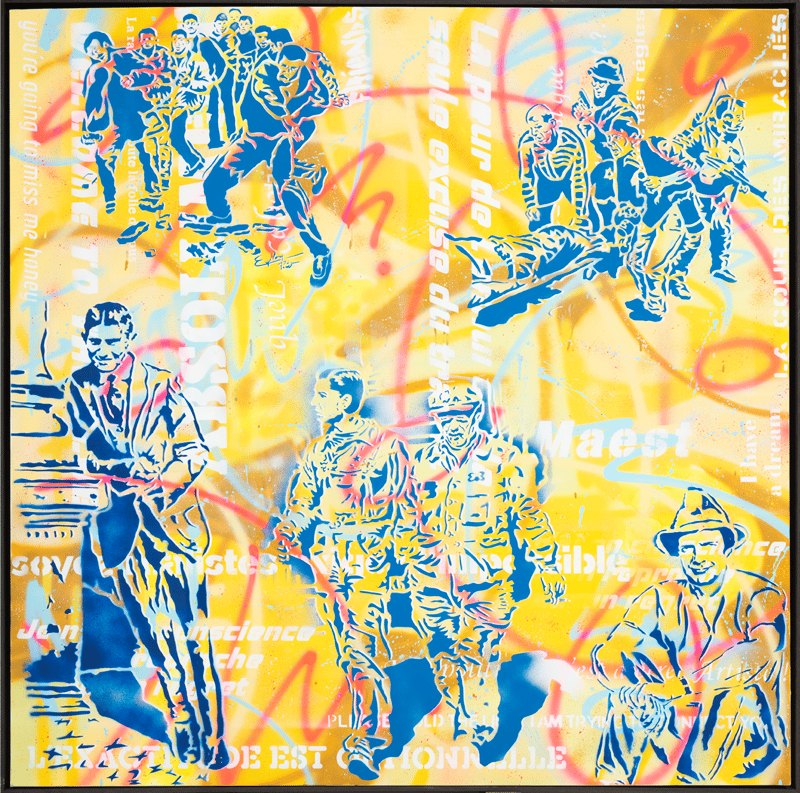 L'exactitude est optionnelle, 2020
Spray and stencils on canvas - One of a kind original artwork
150cm x 150cm
available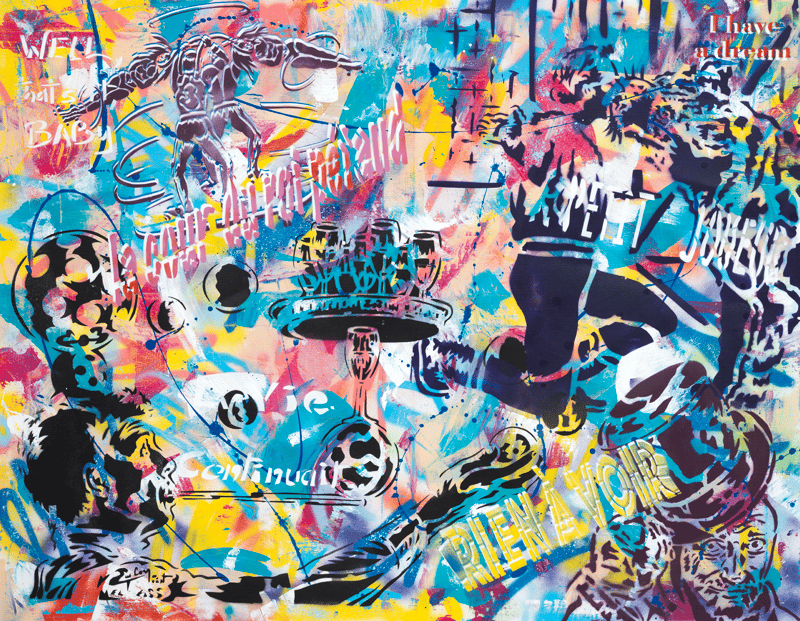 La cour du Roi Pétaud, 2022
Spray and stencils on canvas - One of a kind original artwork
114cm x 146cm
available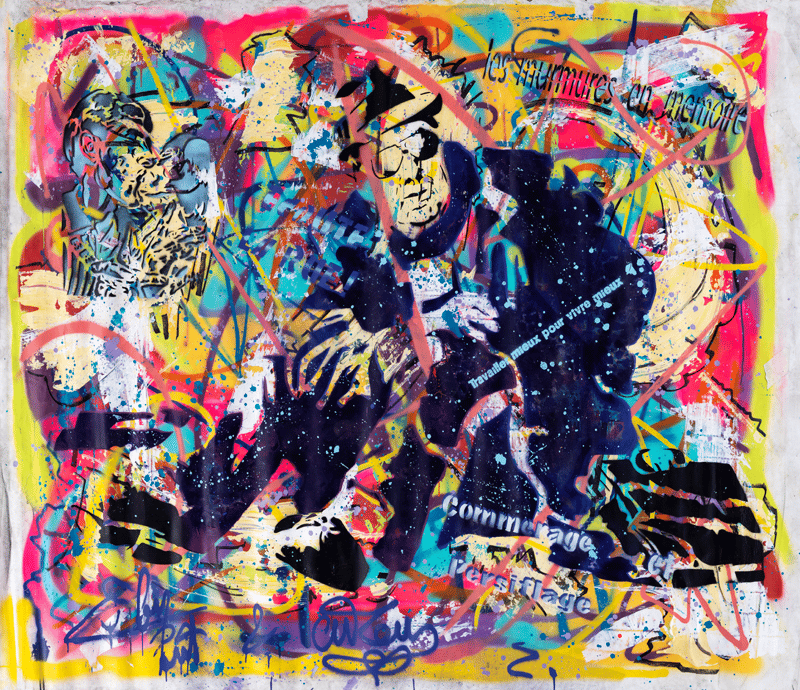 La folie de tous, 2021
Spray and stencils on canvas - One of a kind original artwork
220cm x 312cm
available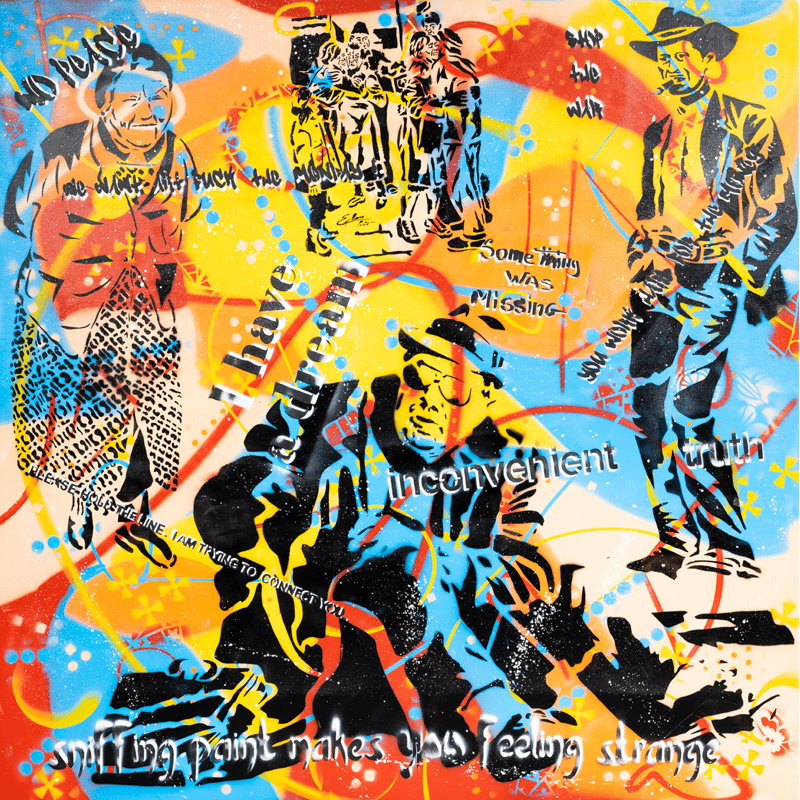 Please hold the line, 2020
Spray and stencils on canvas - One of a kind original artwork
200cm x 200cm
available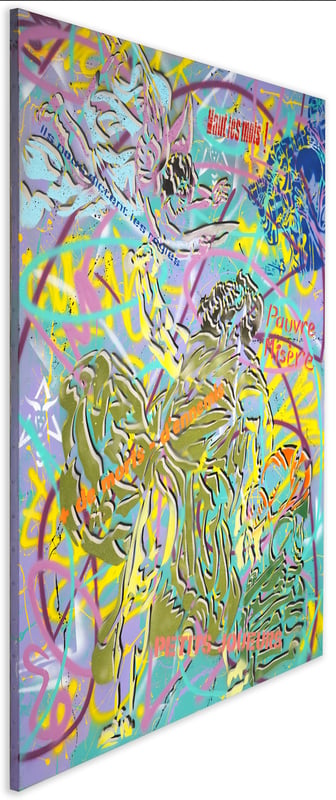 Petit joueur, 2020
Spray and stencils on canvas - One of a kind original artwork
162cm x 130cm x 3cm
available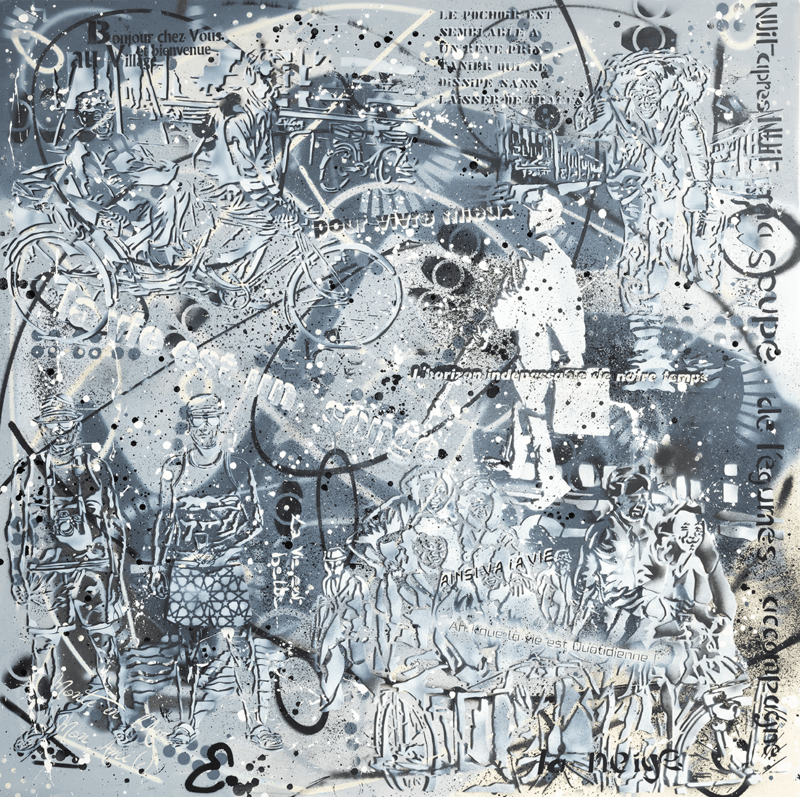 Nuit après nuit, 2020
Spray and stencils on canvas - One of a kind original artwork
200cm x 200cm
available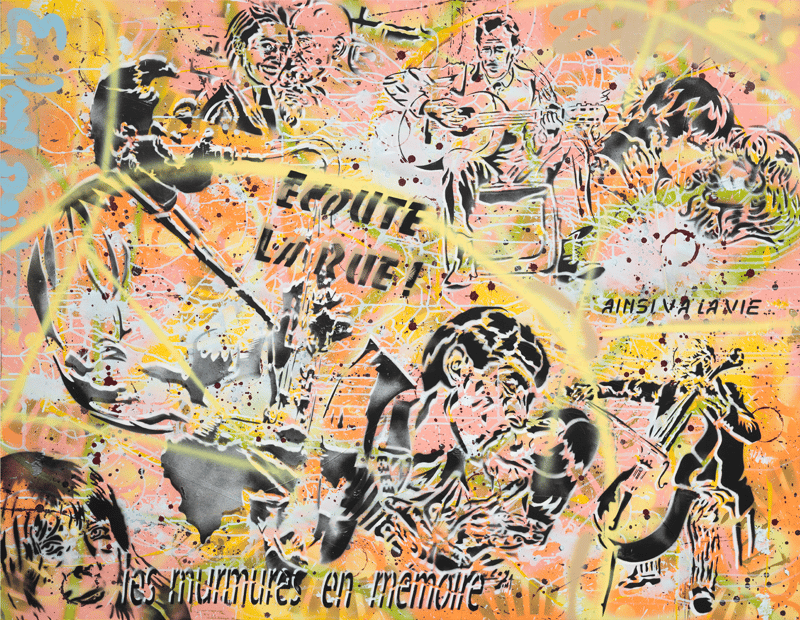 Les murmures en mémoire, 2022
Spray and stencils on canvas - One of a kind original artwork
114cm x 146cm
available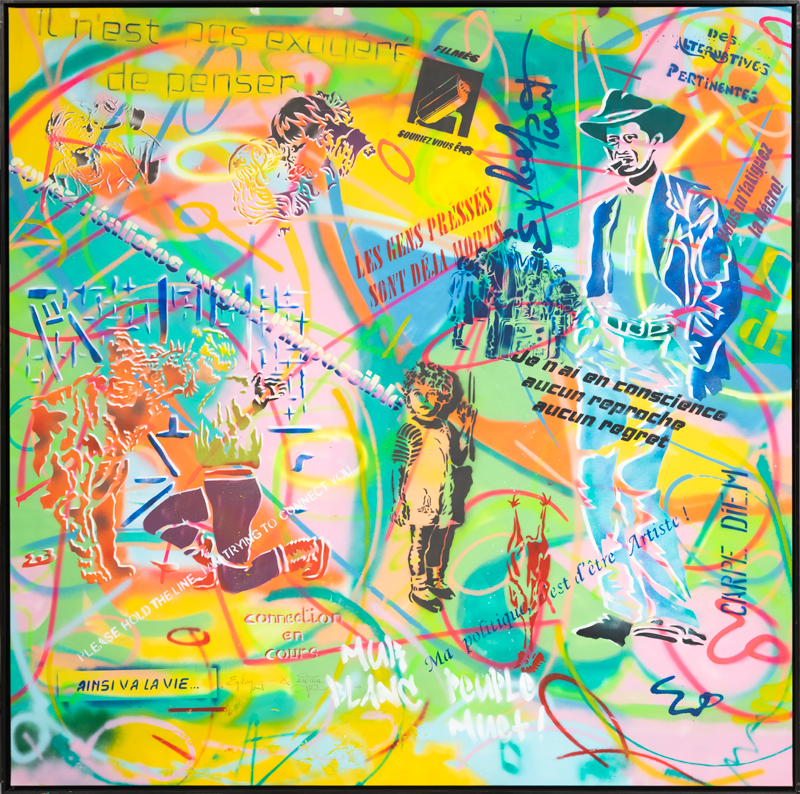 Les gens pressés sont déjà morts, 2021
Spray and stencils on canvas - One of a kind original artwork
200cm x 200cm
available
Attention ça tâche, 2022
Spray and stencils on canvas - One of a kind original artwork
123cm x 102cm
available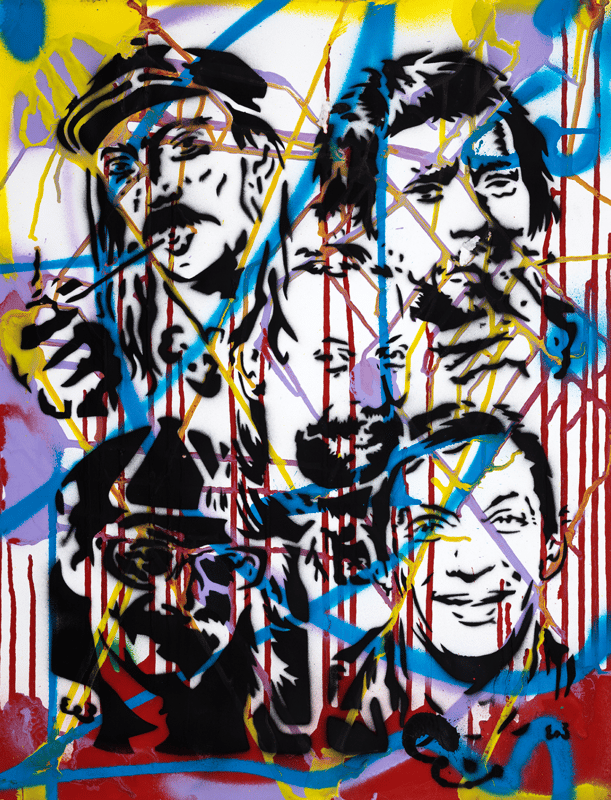 Auto-portraits, 2021
Spray and stencils on paper - One of a kind original artwork
65cm x 50cm
available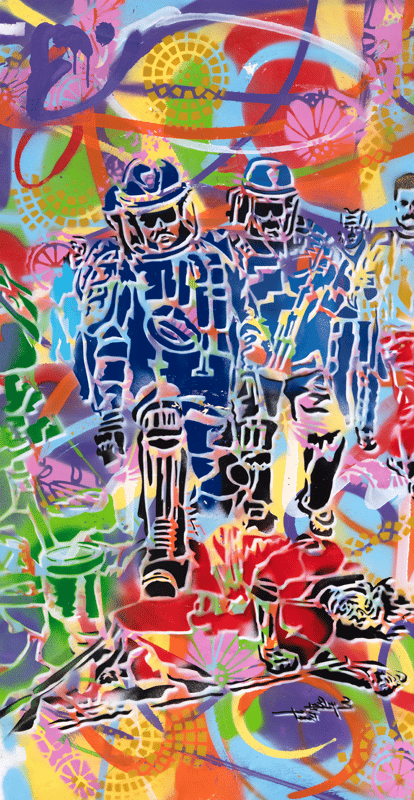 Aux armes citoyens, 2022
Spray and stencils on tarpaulin - One of a kind original artwork
143cm x 75cm
available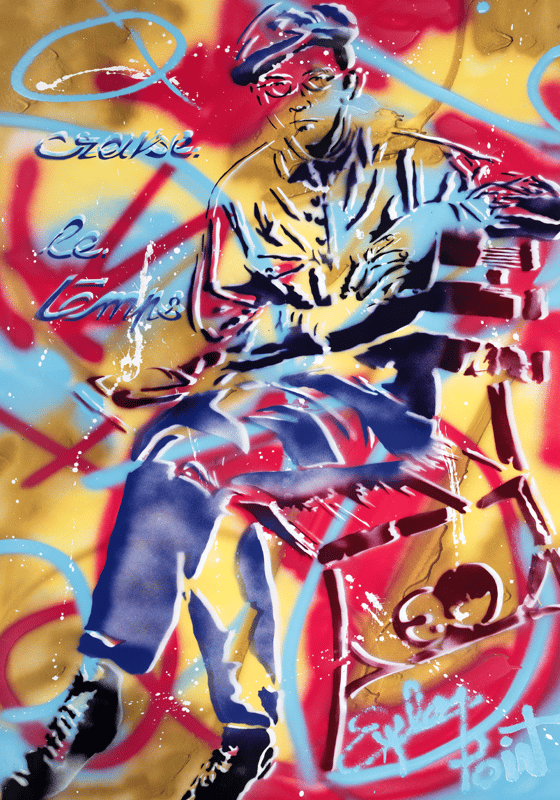 Creuse le temps, 2022
Spray and stencils on paper - One of a kind original artwork
120cm x 80cm
available
GI, 2020
Spray and stencils on canvas - One of a kind original artwork
92cm x 73cm
available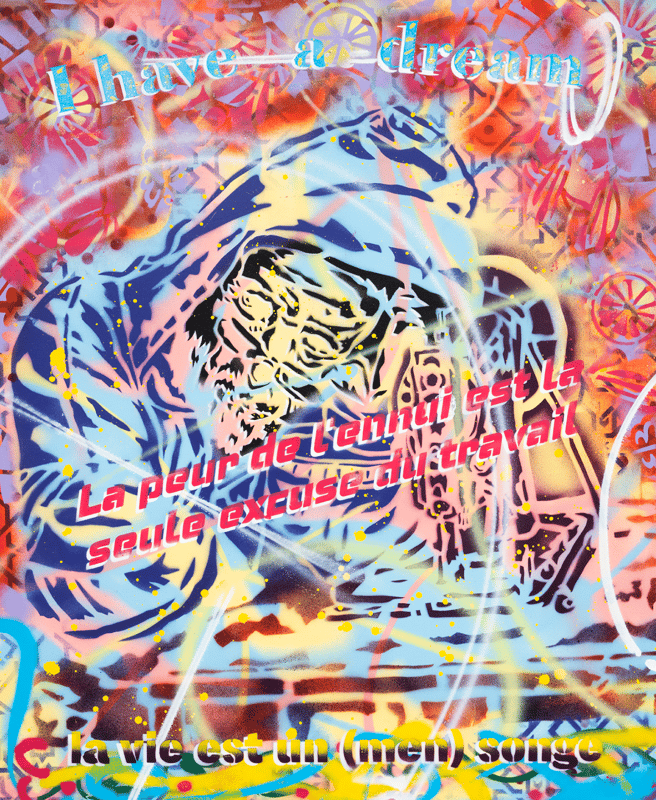 J'ai un rêve, 2022
Spray and stencils on canvas - One of a kind original artwork
100cm x 80cm
available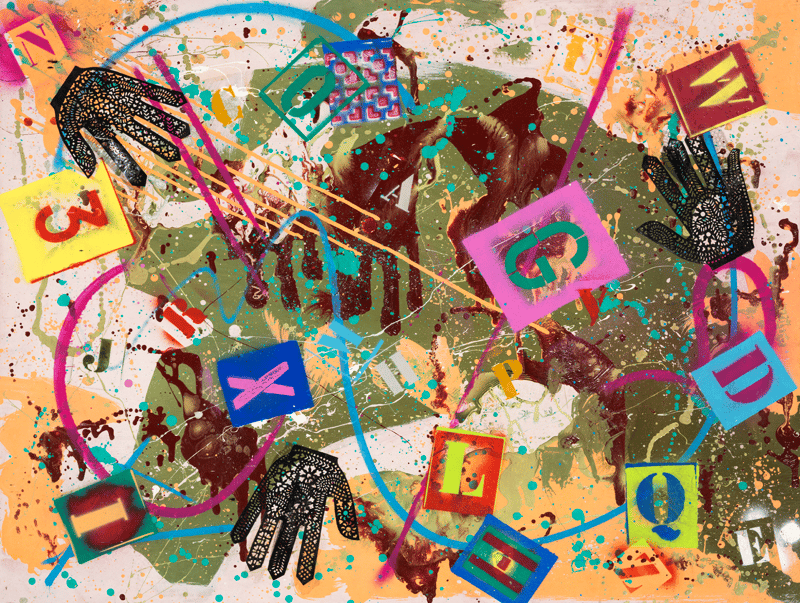 J'ai les lettres pas les mots, 1998
Spray and stencils on canvas - One of a kind original artwork
73cm x 92cm
available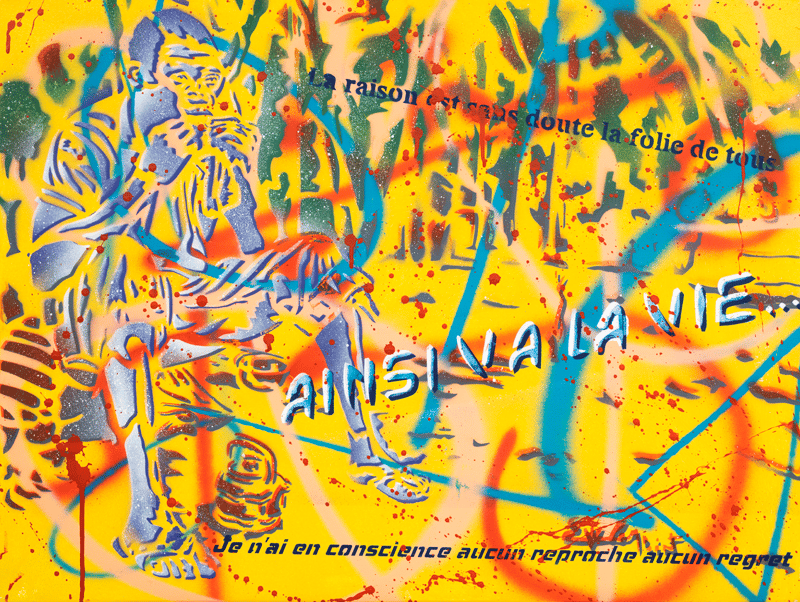 Je n'ai en conscience aucun reproche, 2022
Spray and stencils on canvas - One of a kind original artwork
61cm x 81cm
available
Jeux amoureux, 2020
Spray and stencils on canvas - One of a kind original artwork
73cm x 60cm
available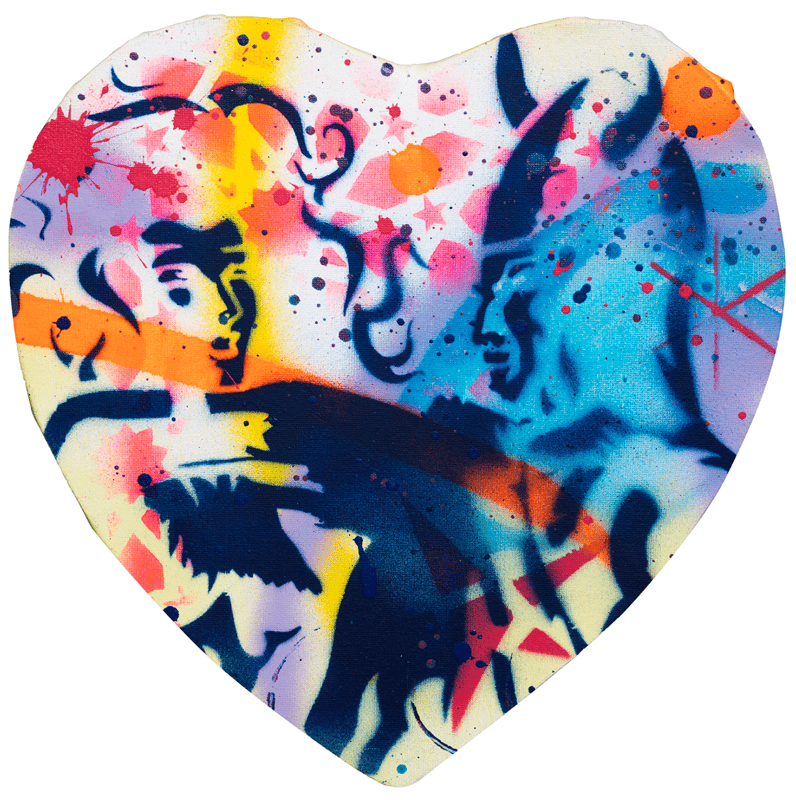 La faune, 2021
Spray and stencils on canvas - One of a kind original artwork
28cm x 0cm
available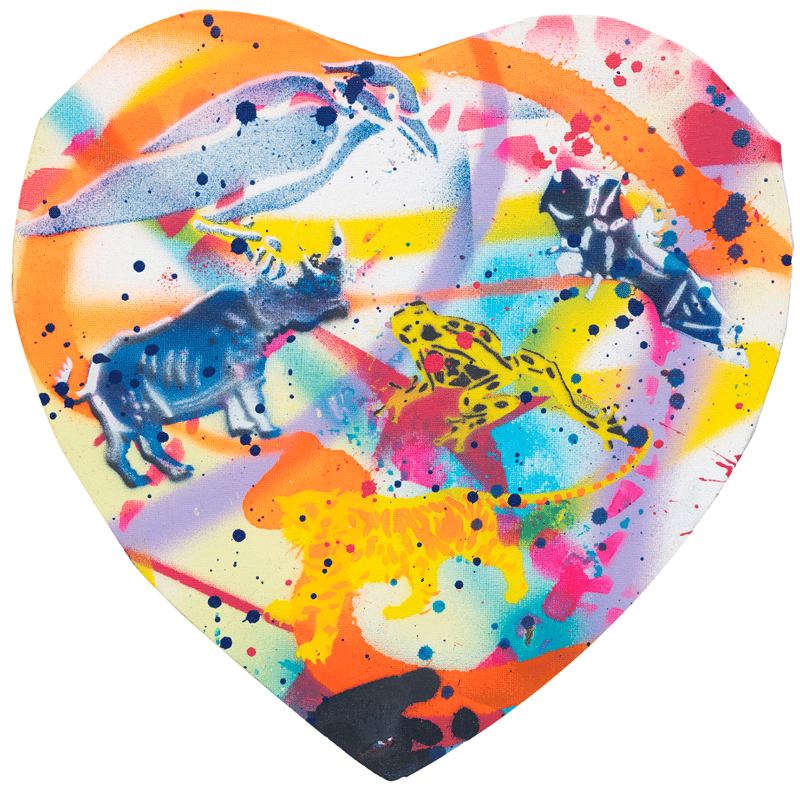 La jungle, 2021
Spray and stencils on canvas - One of a kind original artwork
28cm x 0cm
available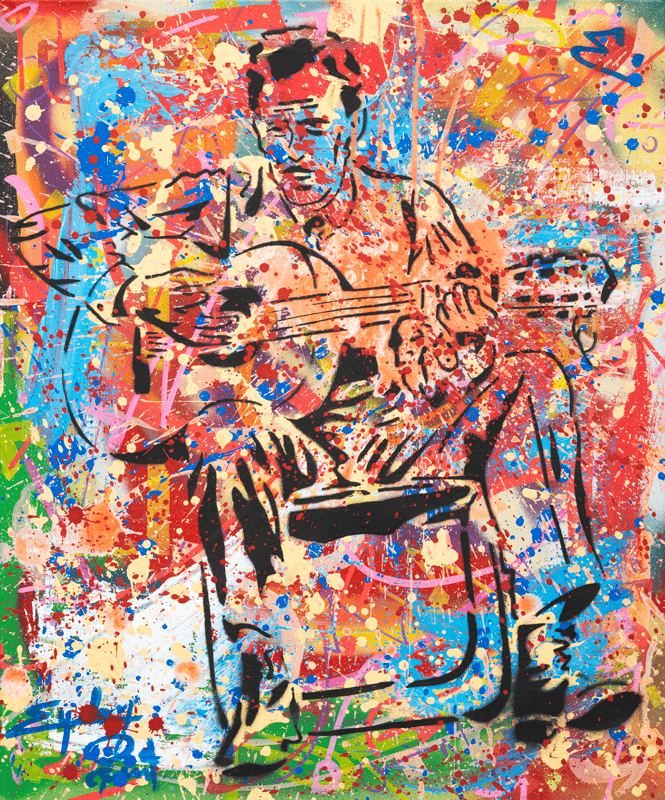 La leçon de guitare, 2022
Spray and stencils on canvas - One of a kind original artwork
55cm x 45cm
available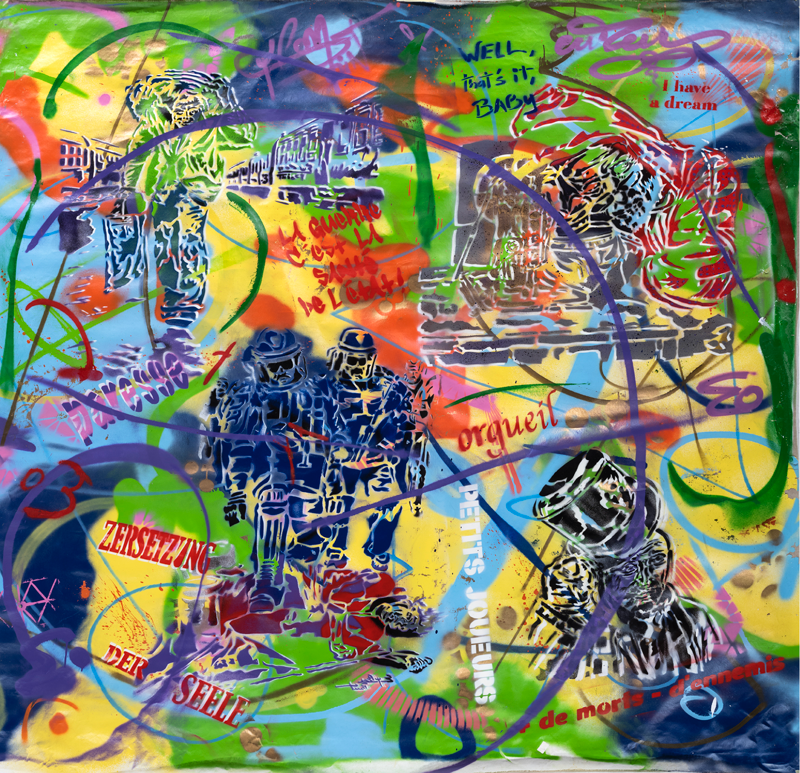 Petit joueur, 2022
Spray and stencils on canvas - One of a kind original artwork
215cm x 202cm
available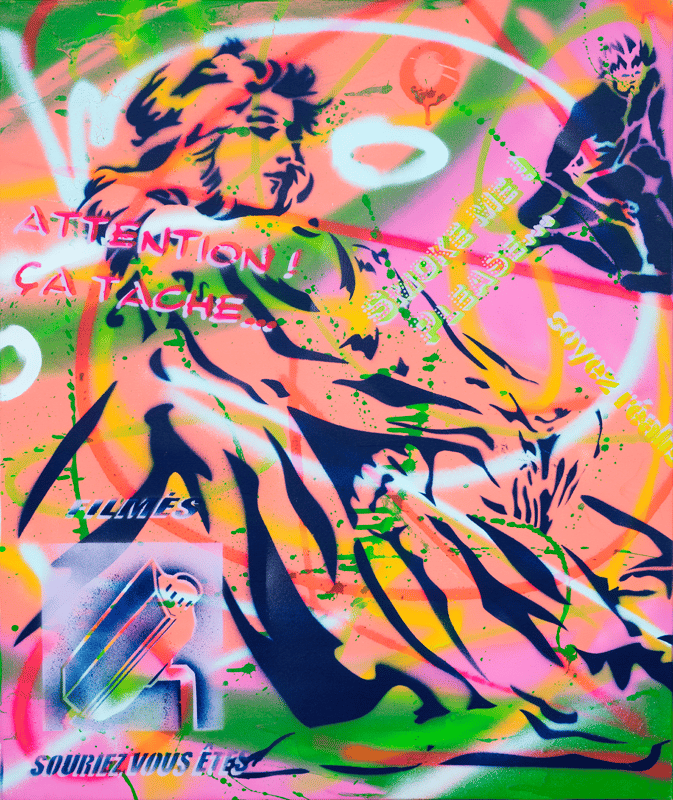 Smoke me please, 2020
Spray and stencils on canvas - One of a kind original artwork
73cm x 60cm
available