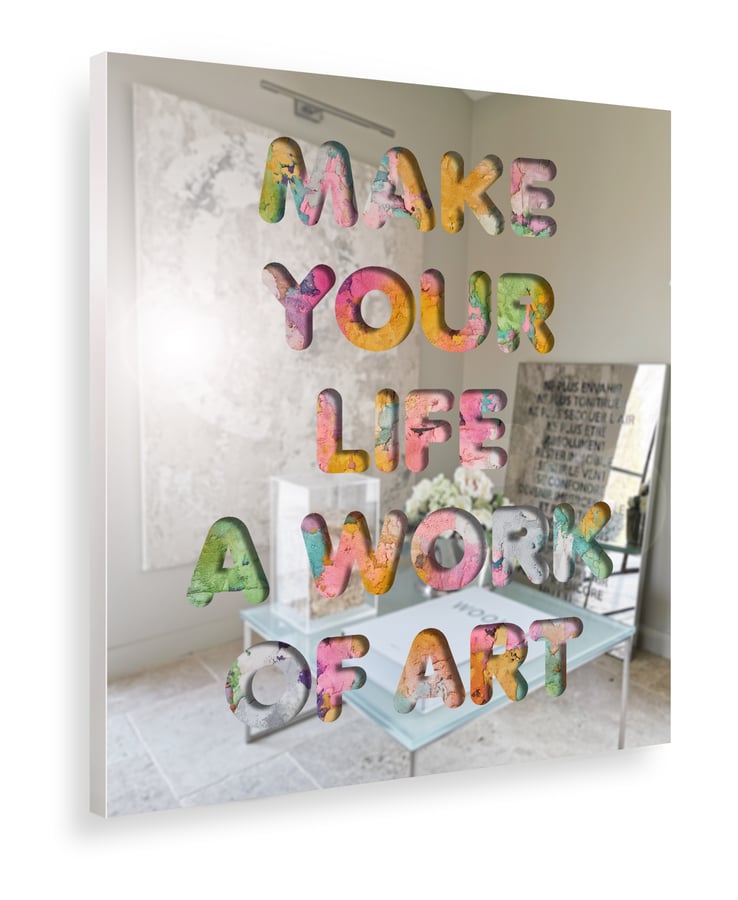 Joseph was born in Paris on October 22, 1961. He lives and works in the south of France.

Present on the artistic scene since 1985, Joseph is influenced by all the symbols of a popular culture of mass, he is part of this new generation of prolix artists animated by a desire of dialogue in opposition to the radicality of the 70s. Drawing on the work of his peers, this visual artist uses all media and hijacks the old papers that are witnesses of our contemporary culture.

After studying architecture at the EDPI and then graphic arts at the Sornas school, Joseph completed his preparation for the Ecole des Beaux Arts where he studied painting and drawing, his dilettantism leading him more often to walk the aisles of Parisian museums than the corridors of the Rue Bonaparte.
While the work of the New Realists, mainly Hains and Villeglé, fascinated him, it was his meeting with Antoni Tapiès that proved to be decisive.
He wonders about the question of the essential intervention of pigments and pastes as the only form of expression.
This is actually the moment where our own reason start to see.
Filter by categories :
All

Engraved Mirrors

Full Painted Colors

Pochoirs & Compressions

Portraits

Steel & Precious Steel

Steel Neon Colors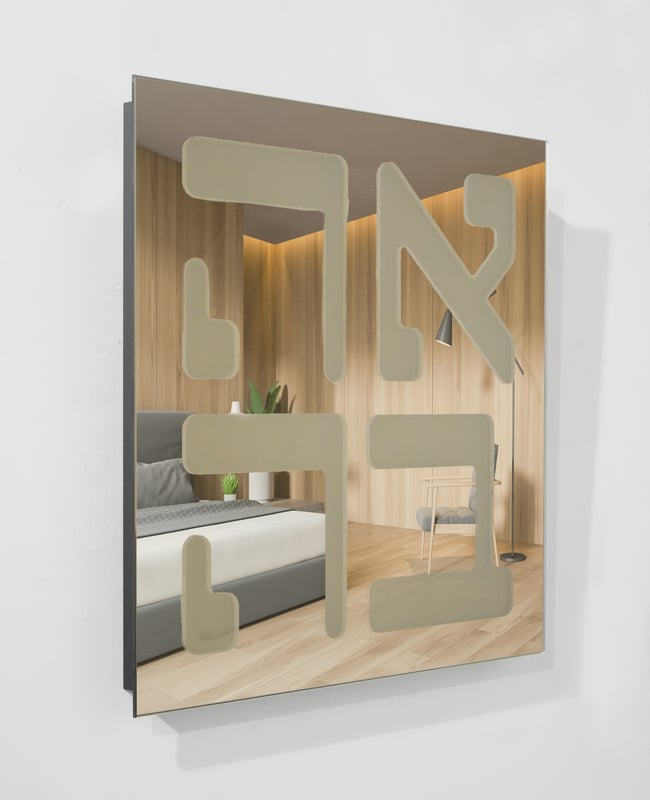 SERIE MIROIRS GRAVES - Love Hebreu CHAMPAGNE, 2021
Mirror with etched text frosted glass - One of a kind original artwork
60cm x 60cm
available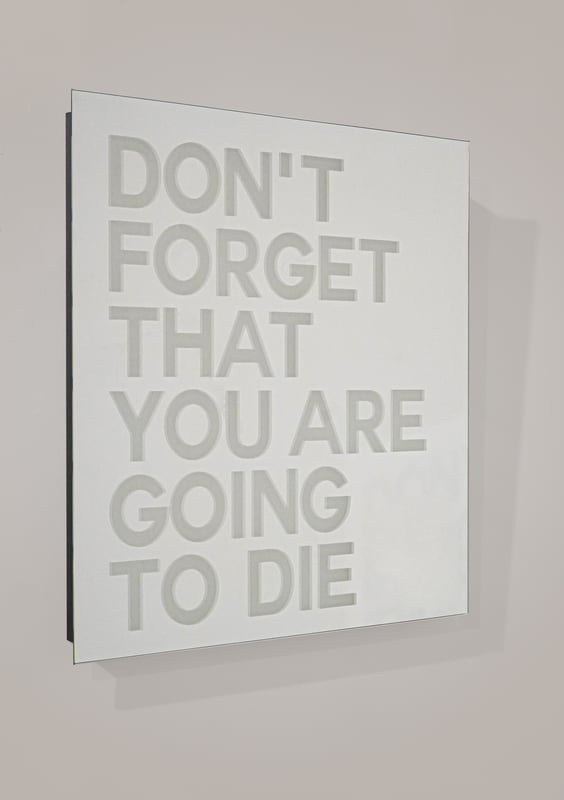 SERIE MIROIRS GRAVES - Don't forget, 2021
Mirror with etched text frosted glass - One of a kind original artwork
60cm x 60cm
available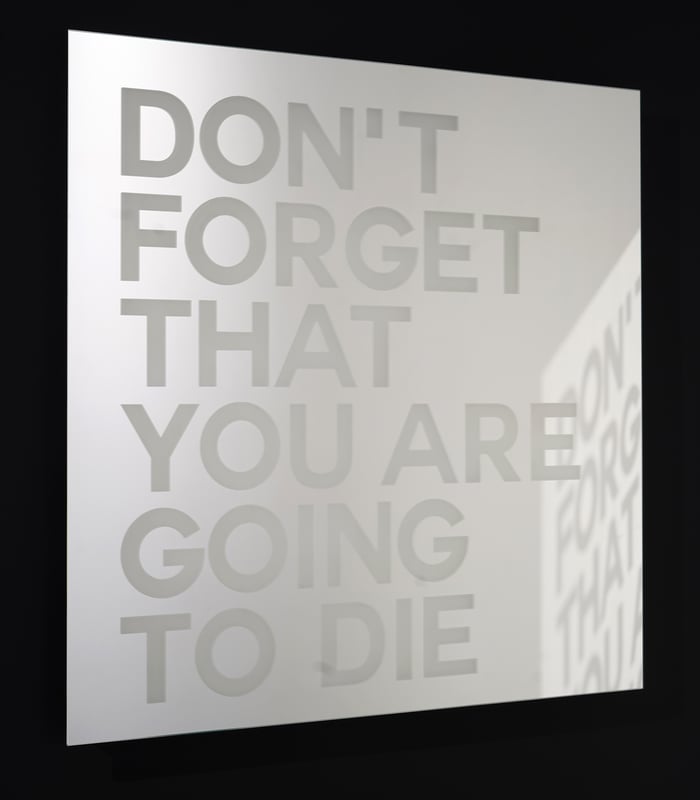 SERIE MIROIRS GRAVES - Don't forget, 2021
Mirror with etched text frosted glass - One of a kind original artwork
100cm x 100cm
available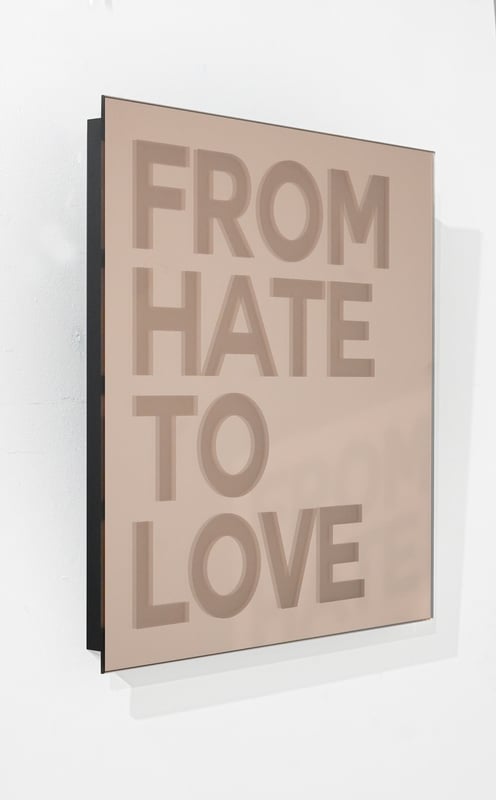 SERIE MIROIRS GRAVES - From Hate to Love - Or Rose, 2021
Mirror with etched text frosted glass - One of a kind original artwork
60cm x 60cm
available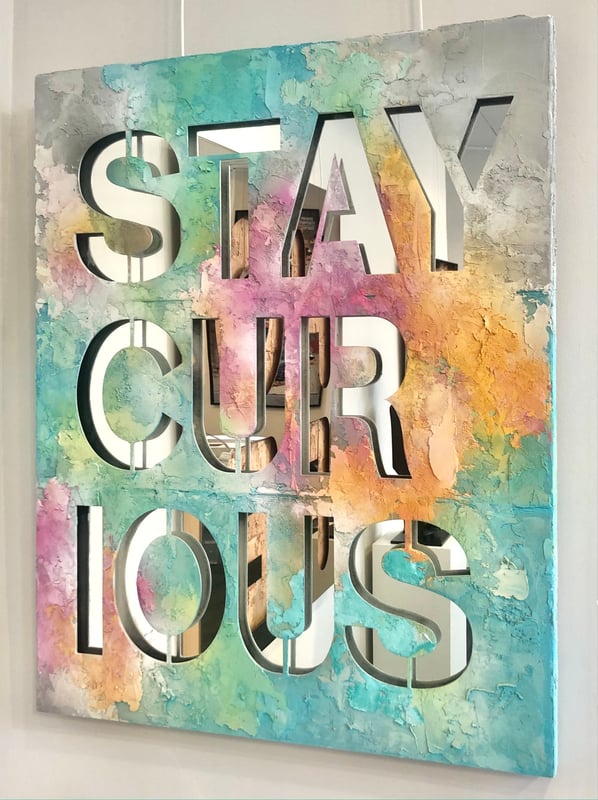 SERIE FULL PAINTED COLORS - Stay Curious - fond colors, 2021
Lime on steel and mirror - One of a kind original artwork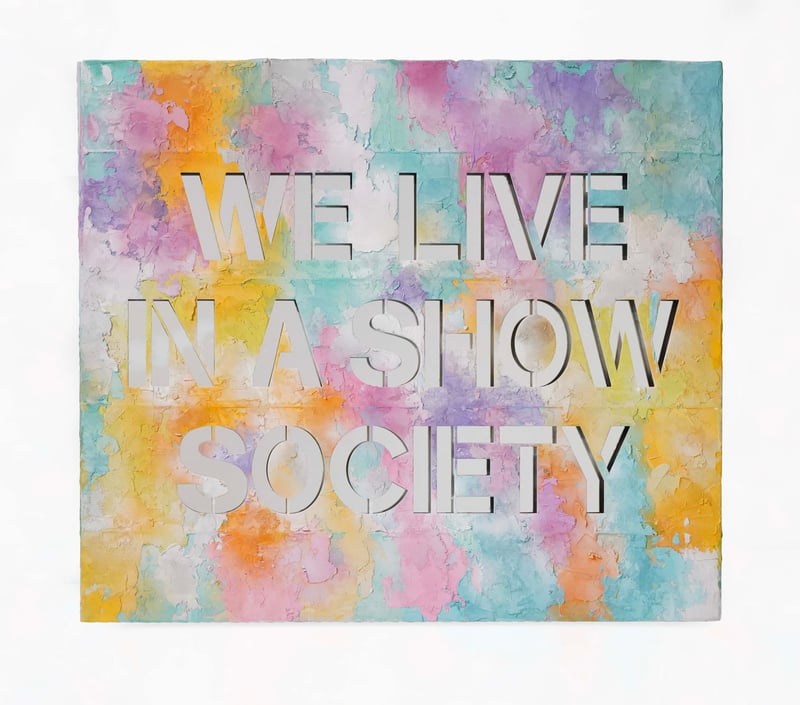 SERIE FULL PAINTED COLORS - We live in a show society, 2021
Lime on steel and mirror - One of a kind original artwork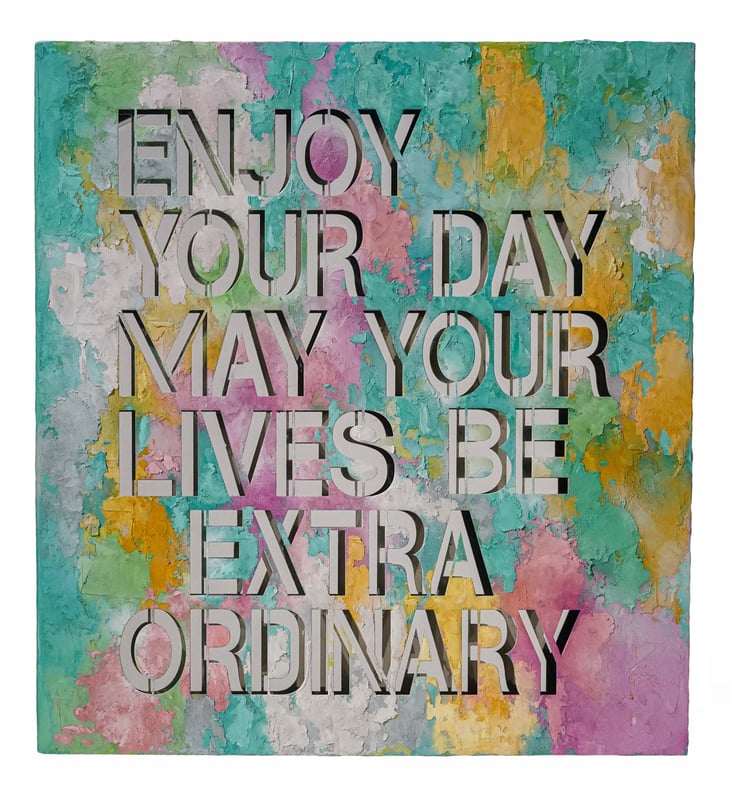 *SERIE FULL PAINTED COLORS - Enjoy, 2021
Lime on steel and mirror - One of a kind original artwork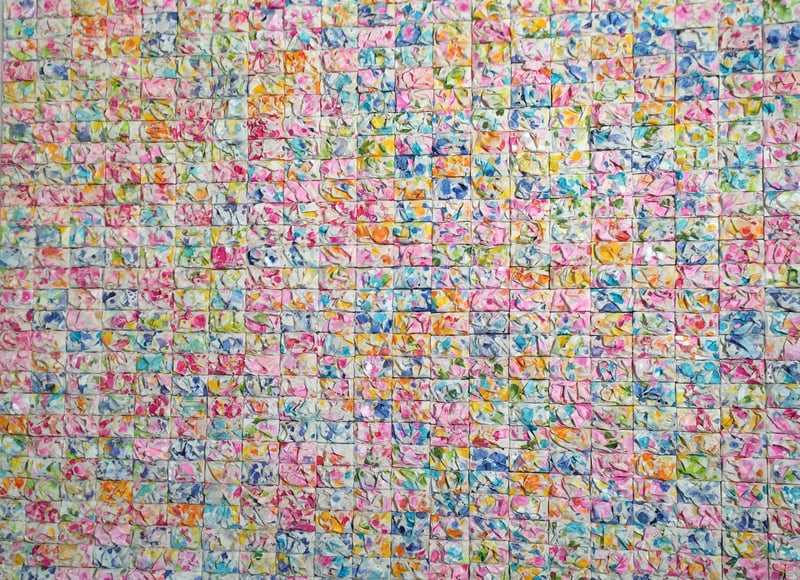 Love me, Love me
Bricks of wasted paper compression - One of a kind original artwork
112cm x 147cm
available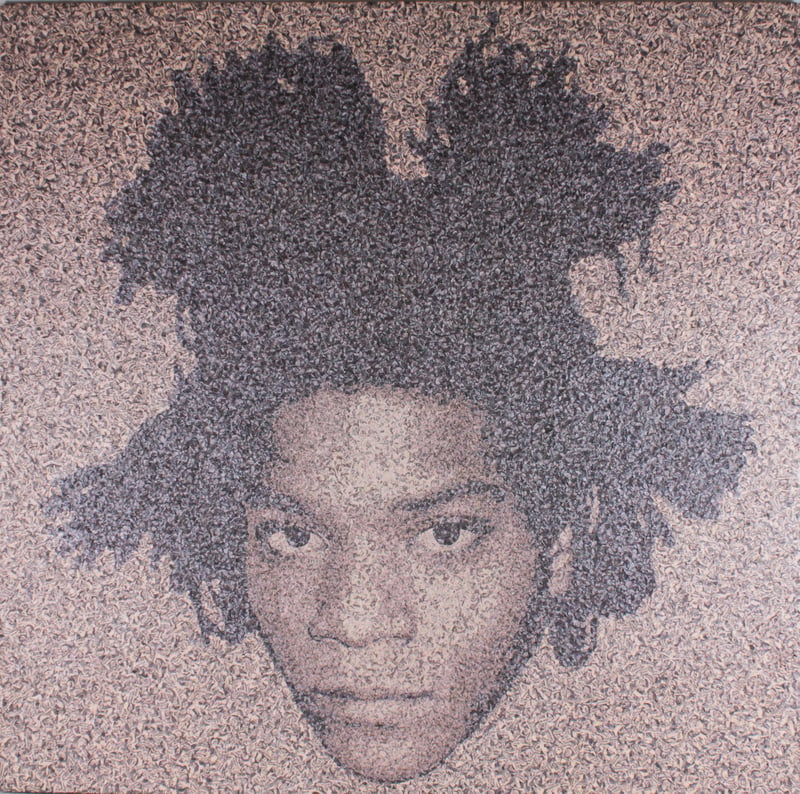 Basquiat
Facsimile one dollar-bills paper collage on board - One of a kind original artwork
200cm x 200cm x 4cm
available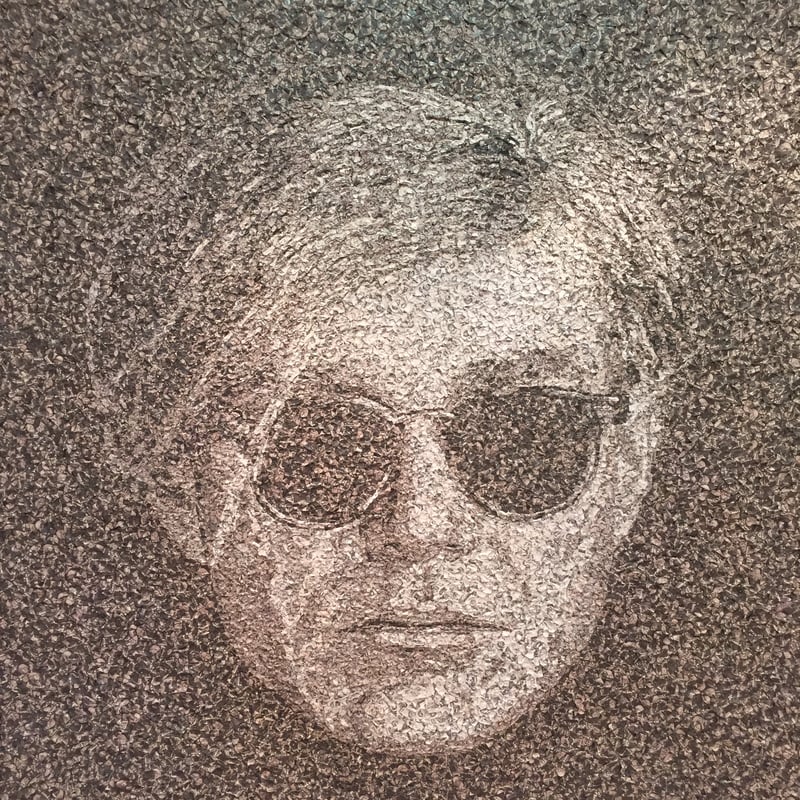 Portrait Warhol
Facsimile one dollar-bills paper collage on board - One of a kind original artwork
150cm x 150cm
available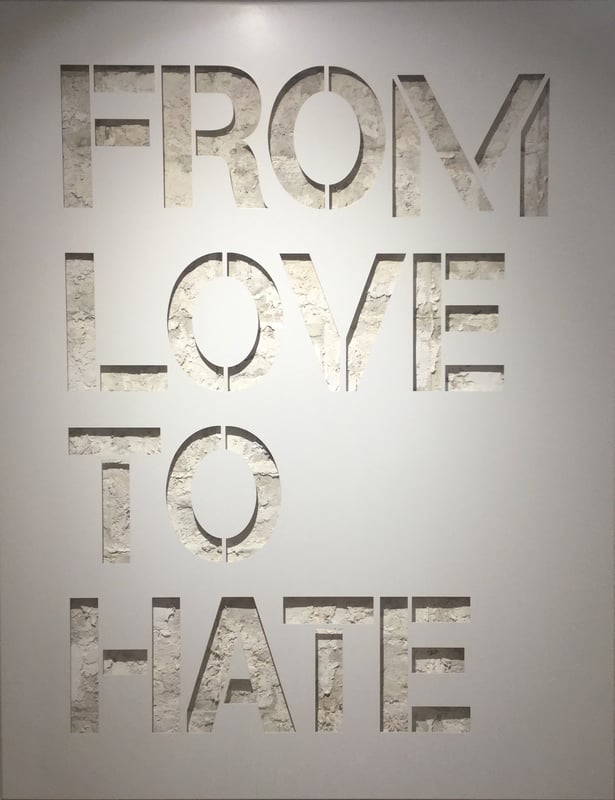 From love to hate-blanc
Thermo-coated Aluminium and lime background - One of a kind original artwork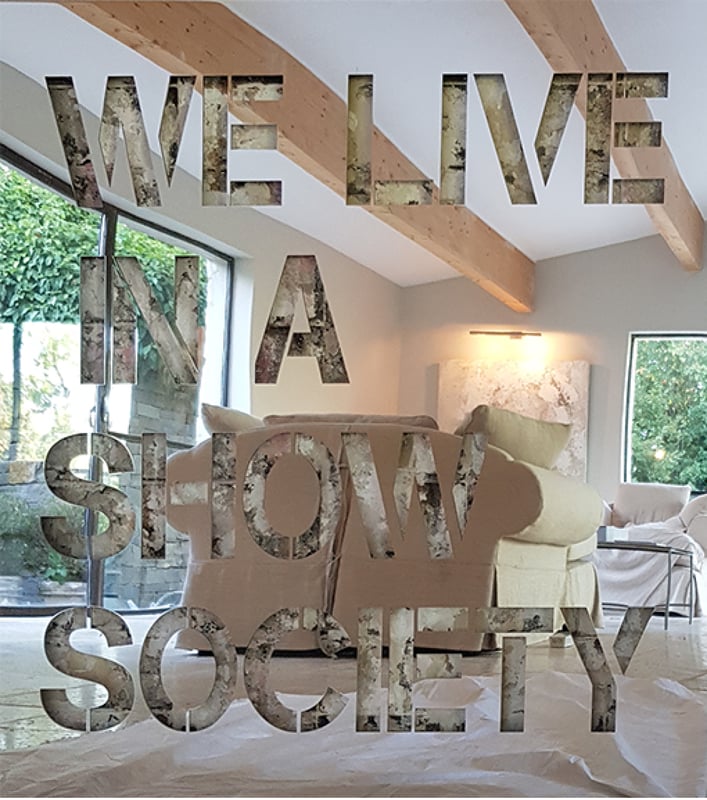 Society
Stainless steel and lime background - One of a kind original artwork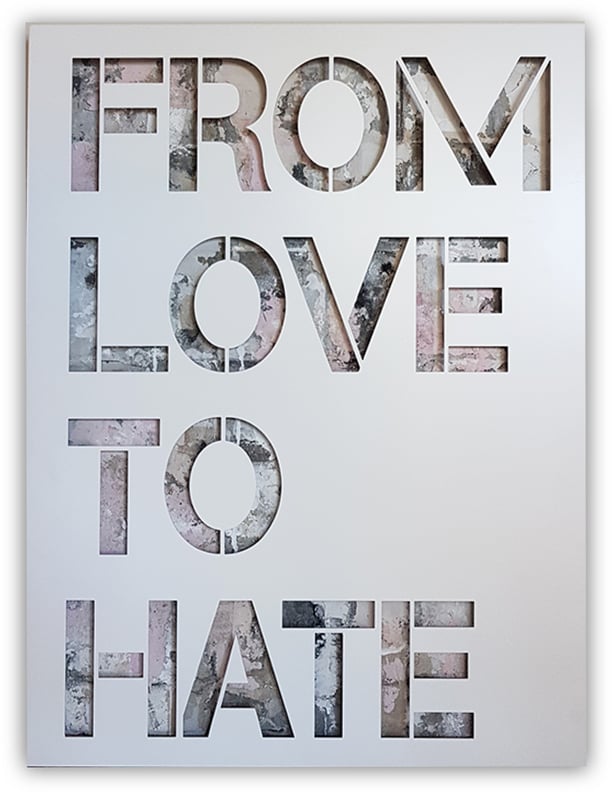 From love to hate
Thermo-coated Aluminium and lime background - One of a kind original artwork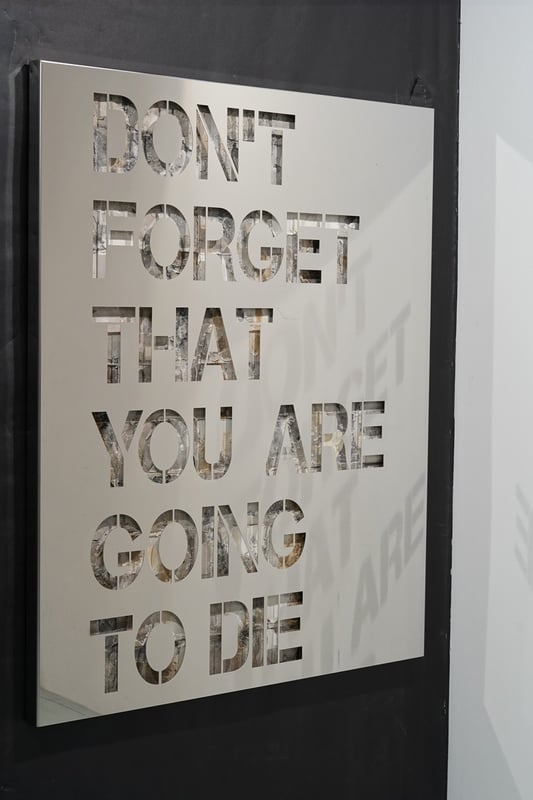 Don't forget - Inox
Stainless steel and lime background - One of a kind original artwork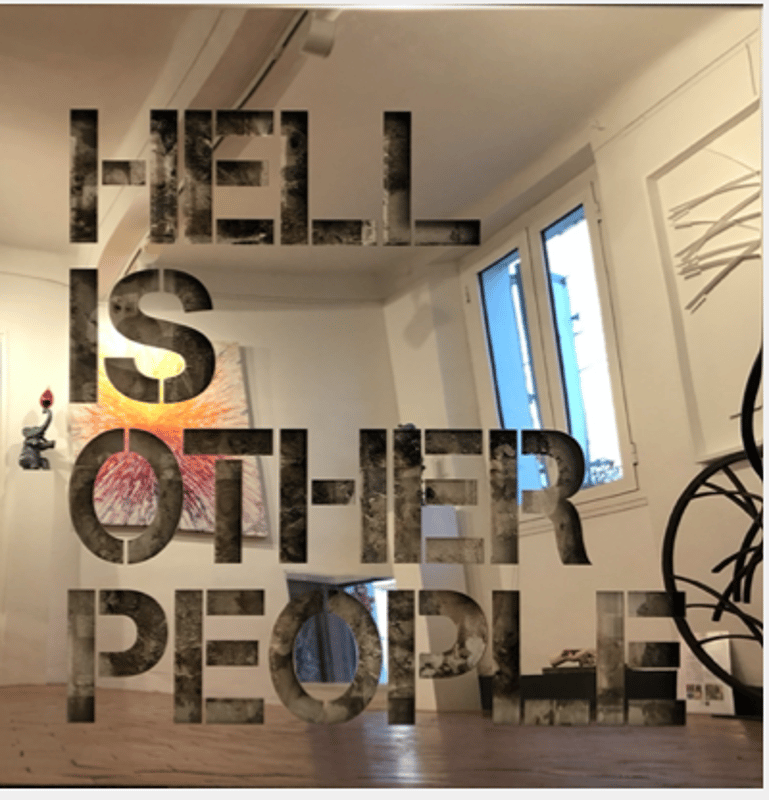 Hell is other people
Stainless steel and lime background - One of a kind original artwork
80cm x 80cm
available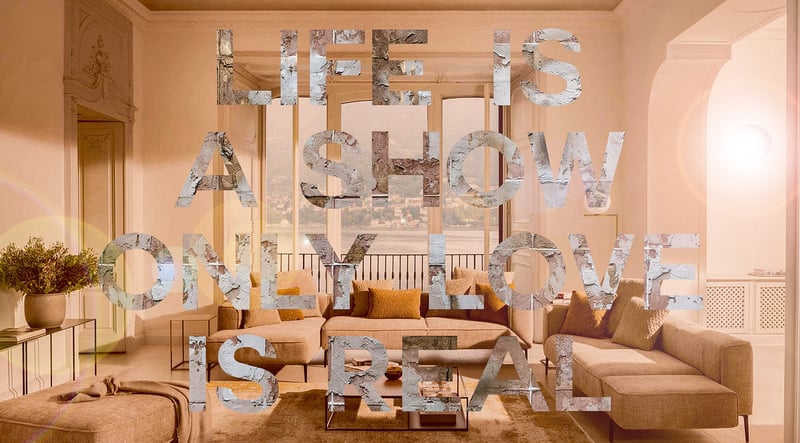 Life is a show - Inox gold pink
Stainless steel tinted with lime & gold leaf background - One of a kind original artwork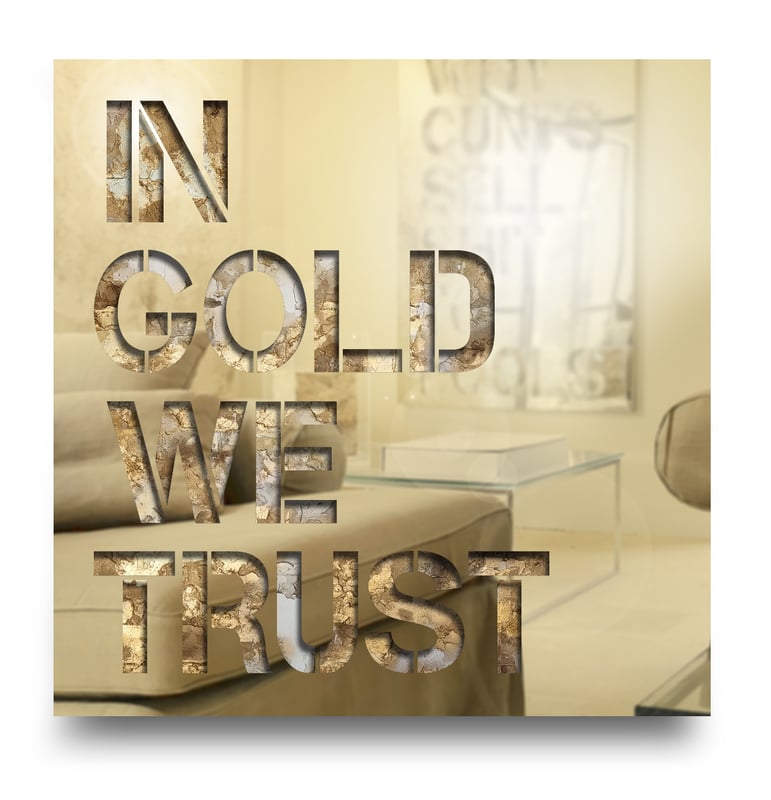 In gold we trust - gold
Stainless steel tinted with lime & gold leaf background - One of a kind original artwork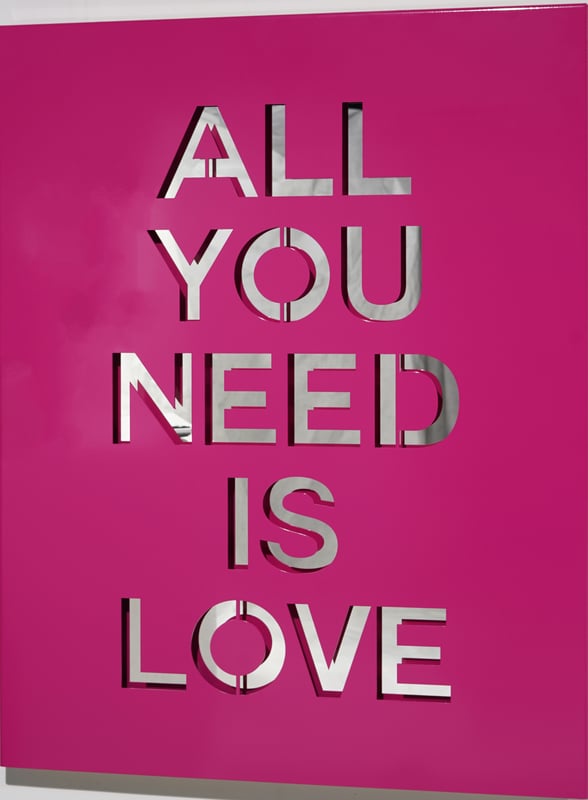 ALL YOU NEED IS LOVE
Thermo-coated Aluminium and mirror background - One of a kind original artwork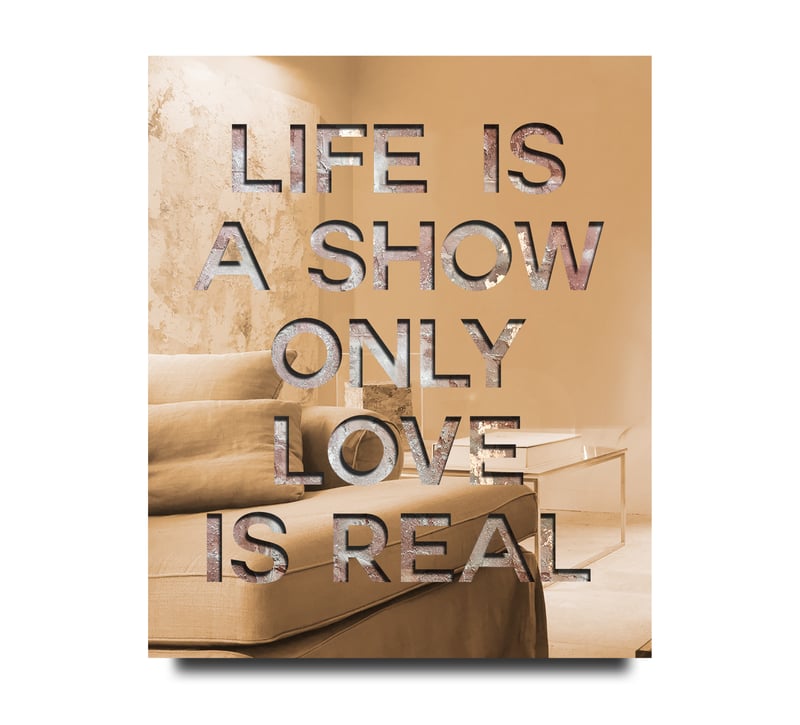 Life Is a Show
Stainless steel tinted with lime background - One of a kind original artwork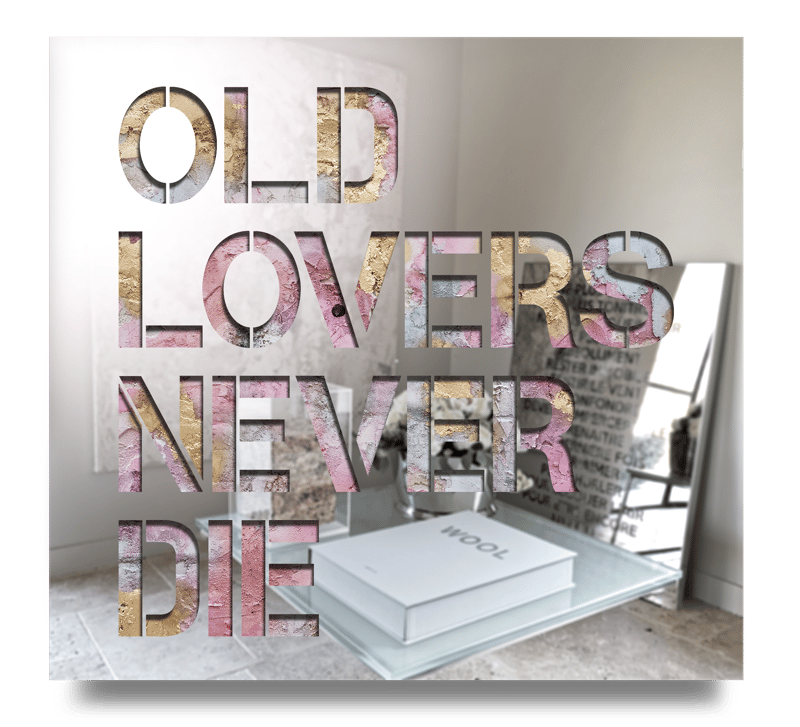 Old lovers never Die - inox, 2021
Stainless steel and lime background - One of a kind original artwork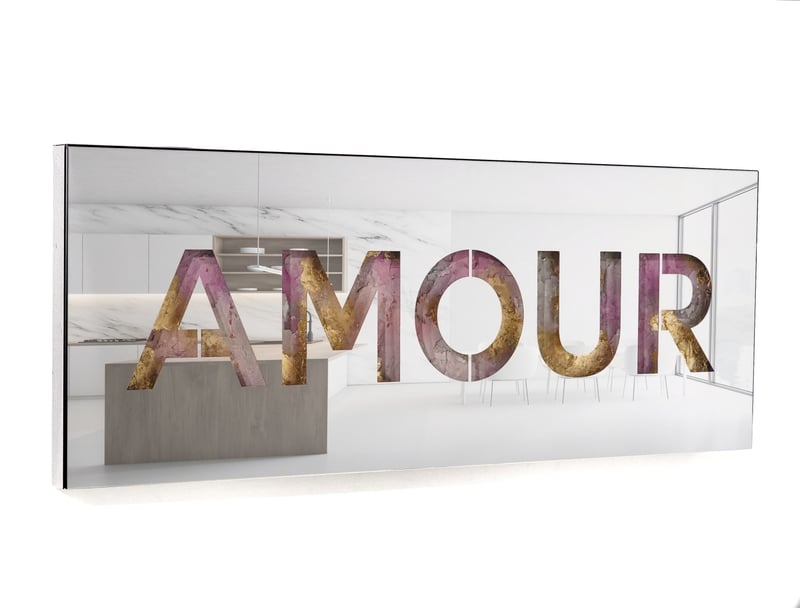 SERIE COLORS - Bandeau Horizontal - Amour, 2021
Stainless steel and lime background - One of a kind original artwork
116cm x 43cm
available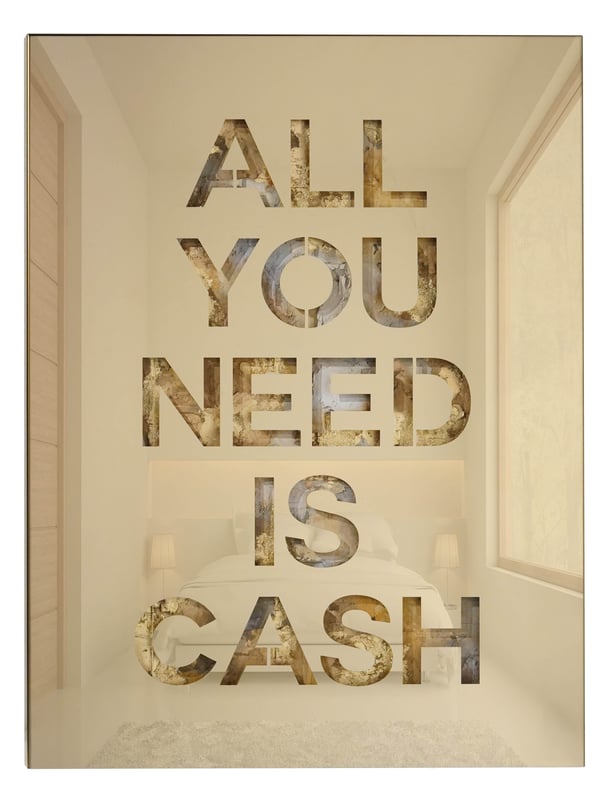 All you need is cash, 2021
Stainless steel tinted with lime & gold leaf background - One of a kind original artwork
116cm x 86cm
available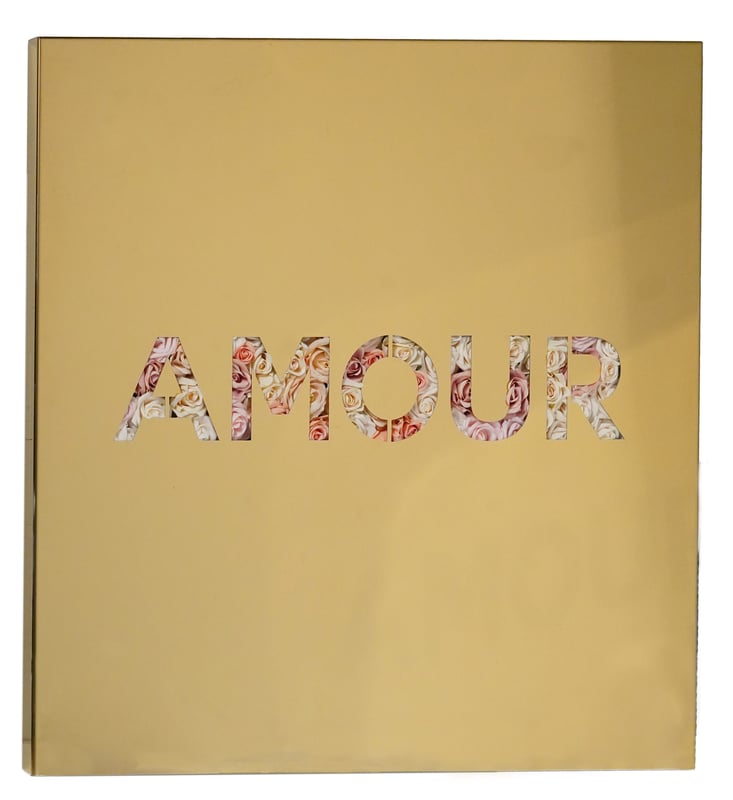 Amour flowers, 2021
Stainless steel tinted with lime & gold leaf background - One of a kind original artwork
100cm x 100cm
available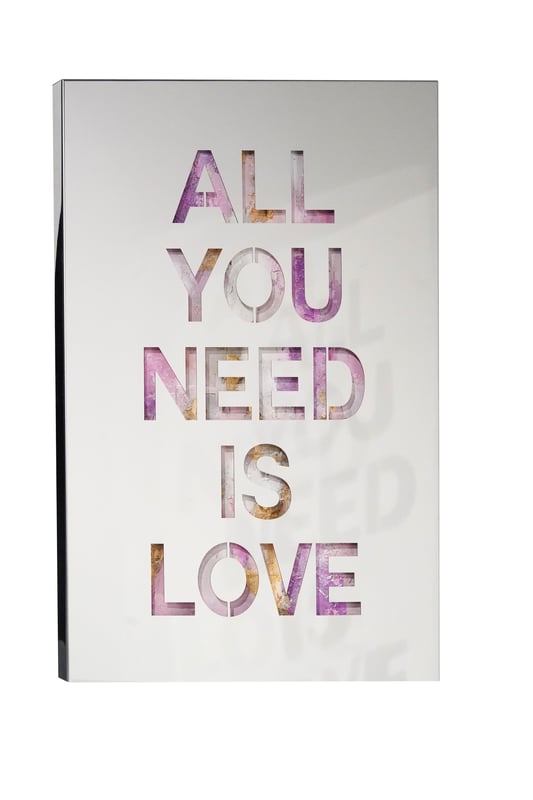 All you need is love, 2021
Stainless steel with lime & gold leaf background - One of a kind original artwork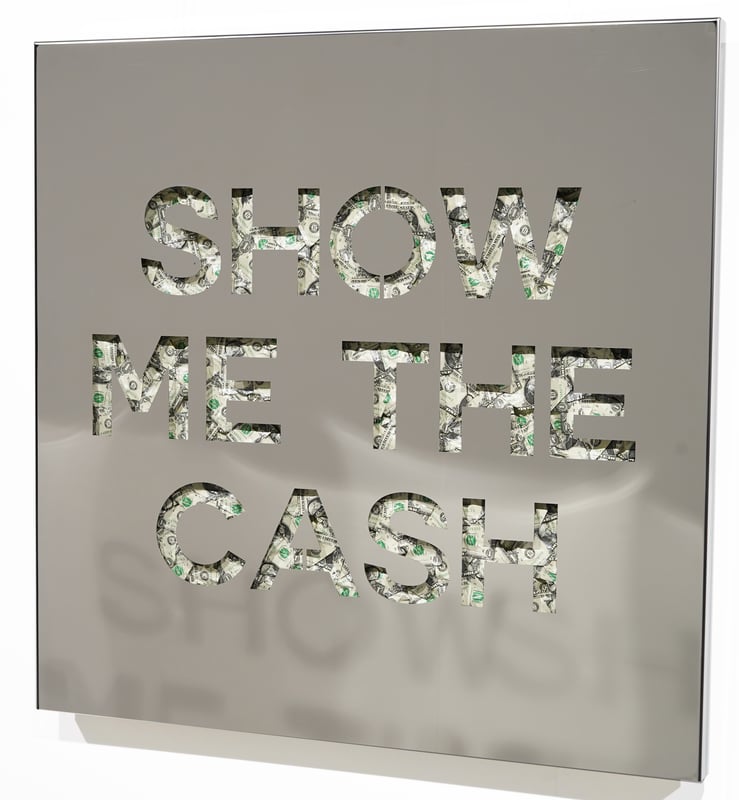 Show me the cash
Stainless steel and facsimile one dollar-bills paper background - One of a kind original artwork
100cm x 100cm x 5cm
available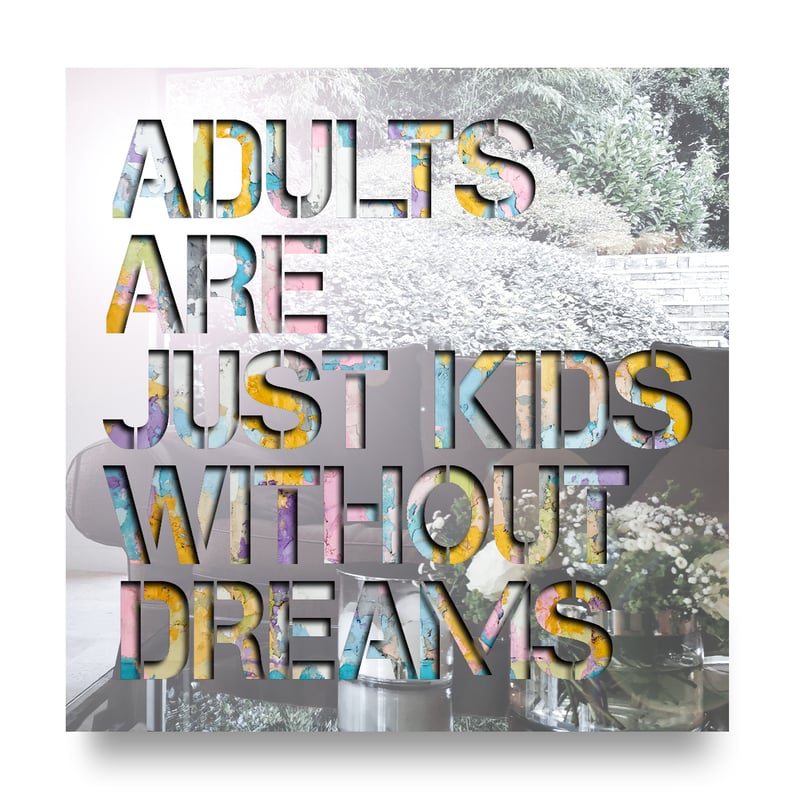 KIDS, 2021
Stainless steel and lime background - One of a kind original artwork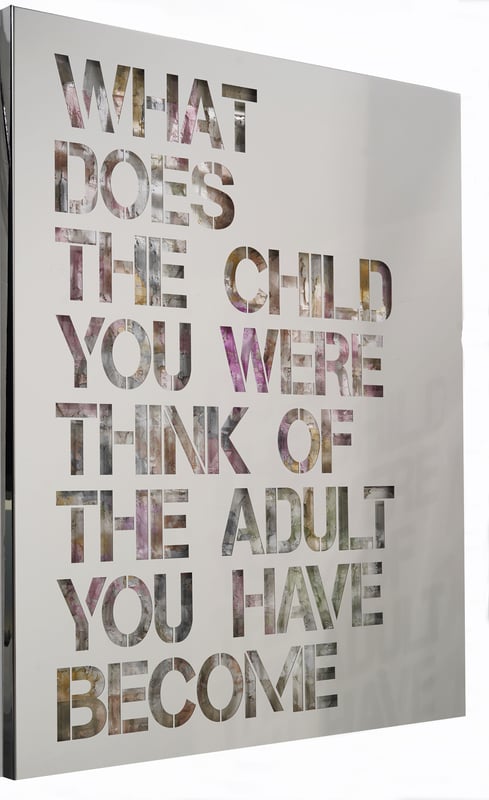 CHILD - fond pastel, 2021
Stainless steel and lime background - One of a kind original artwork
132cm x 108cm
available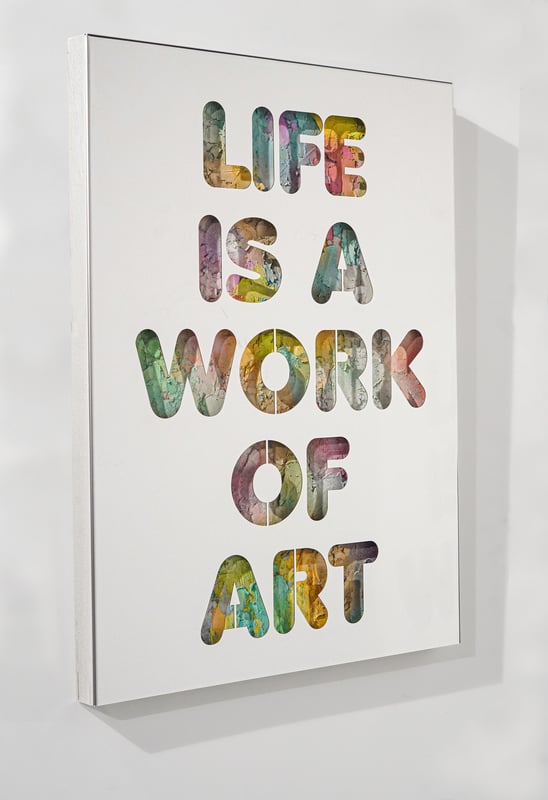 SERIE COLORS - Life is a work of art, 2021
Stainless steel and lime background - One of a kind original artwork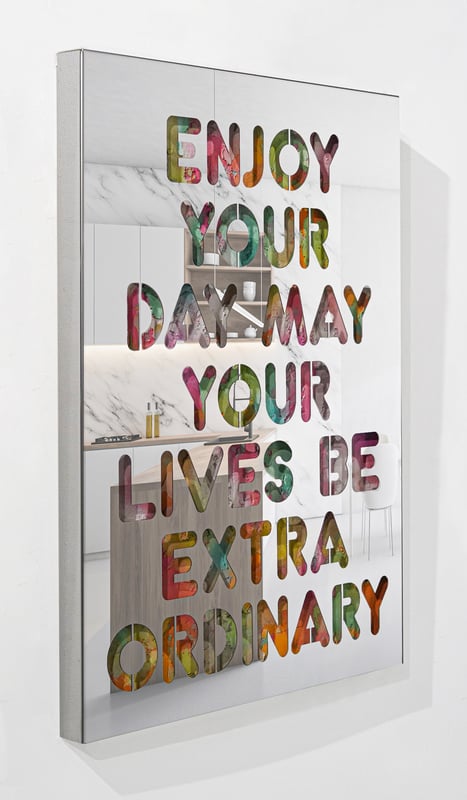 SERIE COLORS - Enjoy, 2021
Stainless steel and lime background - One of a kind original artwork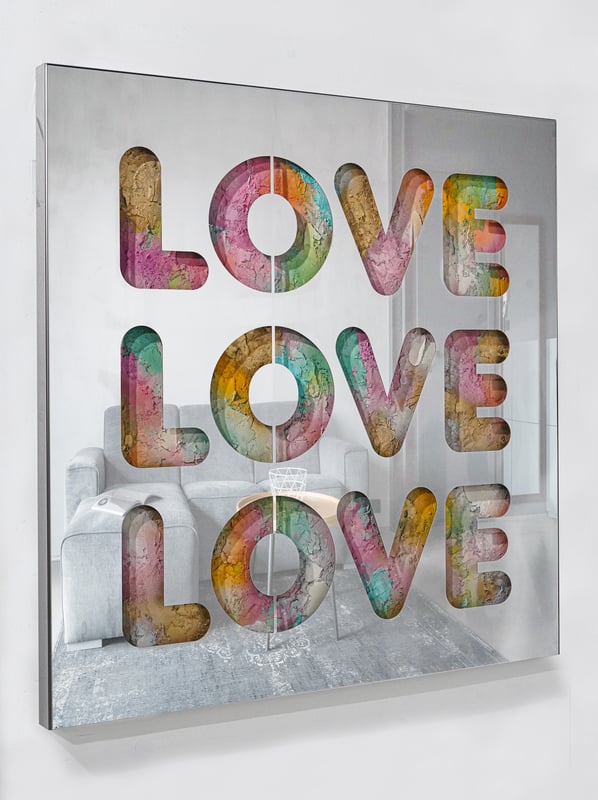 SERIE COLORS - Love love love, 2021
Stainless steel and lime background - One of a kind original artwork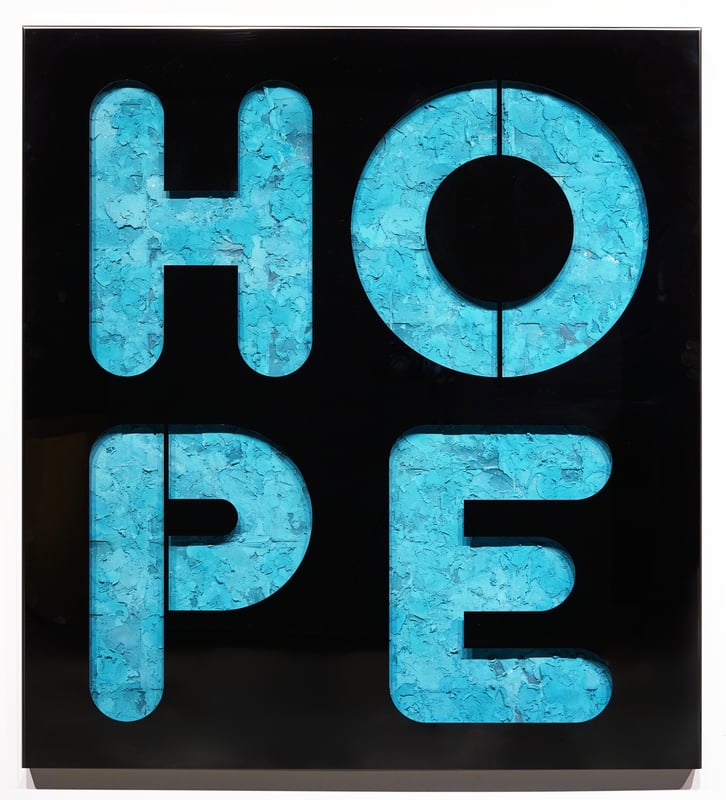 Hope - fond turquoise, 2023
Stainless steel and lime background - One of a kind original artwork