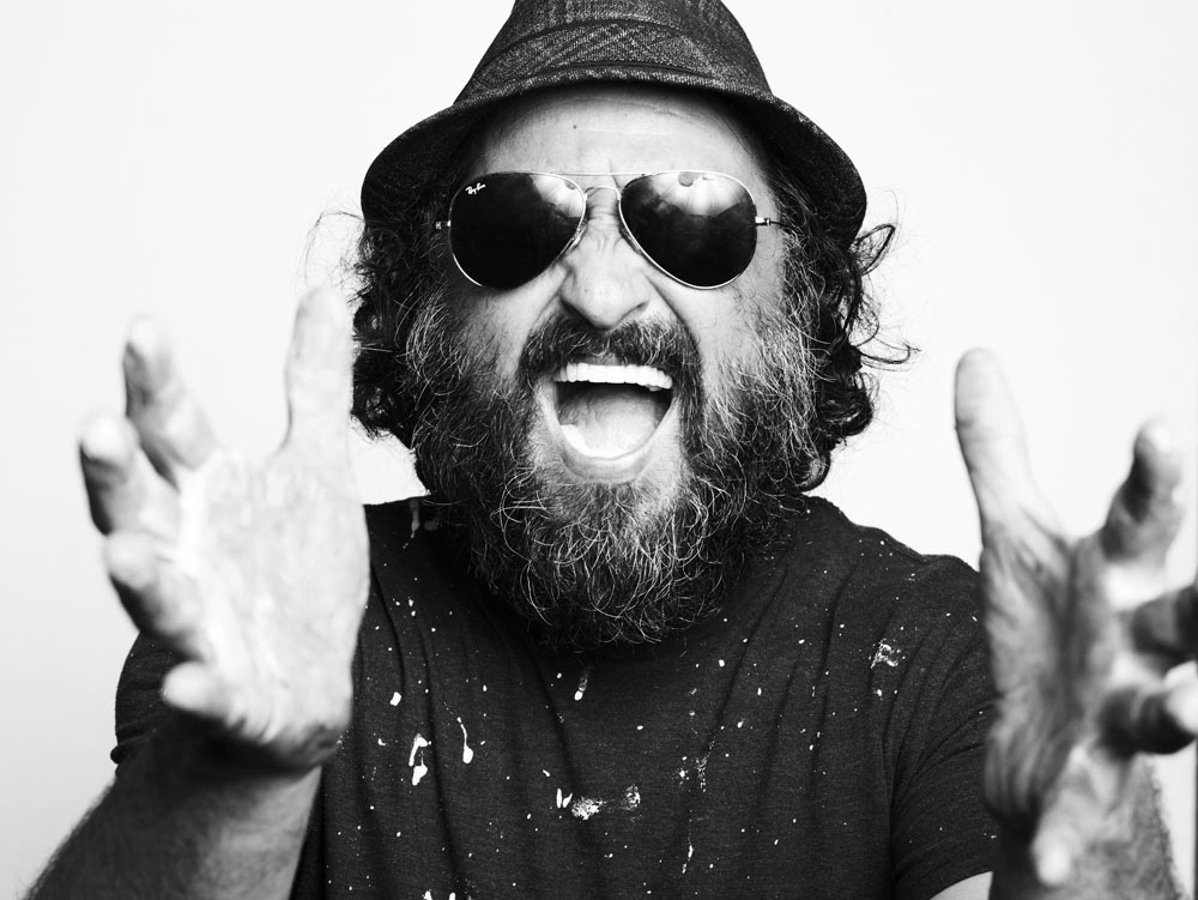 Mr Brainwash was born in 1966, a year which exemplifies contrasts. Coca Cola gets the indisputable place of world's first drink while China begins its Cultural Revolution. Raised in Sarcelles near Paris, in a cosmopolitan city which is imbued with an alternative artistic movement, Thierry Guetta –the artist's really name- has been living in Los Angeles since he is fifteen. His life on the West Coast has long been punctuated with diverse activities, including selling second-hand clothes, designing clothes for a famous fashion brand, creating the production firm "3A Entertainment" and managing a nightclub.

Passionate for video making and street art, Mr Brainwash is a complete artist who enjoys seeking extensions in every sense of the word, in his exhibitions and multi-faceted production. In the footsteps of urban art stars such as Banksy, he contributed to expand Pop art's scope with new media, in the street and on screen.

2008 propels Mr Brainwash to the artistic forefront. His exhibition "Life is beautiful" organized in Los Angeles at CBS premises for only five days is so successful that the artist has to extend it to two months. He is therefore supported by his friends street artists such as Shepard Fairey and Banksy whom he starts collaborating more intensively with.

After two exhibitions in 2010, "Icons" in New York" then "Under Construction" in Miami, his first exhibition in the UK takes place in London and reachs an enthusiastic audience. As Mr Brainwash desires to project his production beyond exhibition space, he eventually broadcasts his image at each show by handing out post cards and posters.

As he embodies the continuity of artistic creation, Mr Brainwash holds the camera: why not filming the street art community? After filming for seven years, Mr Brainwash presents his film "Life Remote Control" with the help of the Swiss film director Joachim Levy at the Cannes professional movie fair in 2006.

Mr Brainwash's film and documentary adventure has continued with Banksy who turns him into a satirical figure. In 2010, the famous stencilist directed a movie which utterly manifests the drifts of art market. Under the aspect of a fiction, "Faites le mur!" tells the genuine story of Mr Brainwash, "Life Remote Control"'s amateur filmmaker who has been convinced by Banksy to become an urban artist.

As Pop art icons, like Andy Warhol with the rock band The Velvet Underground, Mr Brainwash reflects above all his generation. His collaborations with famous artists have shown how accomplished he is. He has notably designed CD covers for Madonna, Michael Jackson, The Red Hot Chilli Peppers and The Black Keys. After "Celebration" by Madonna in 2009, Brainwash returns to the underground stage with the album "Metropolis" by David Guetta in 2012.
Filter by categories :
All

Neons

Sculptures

Works on Paper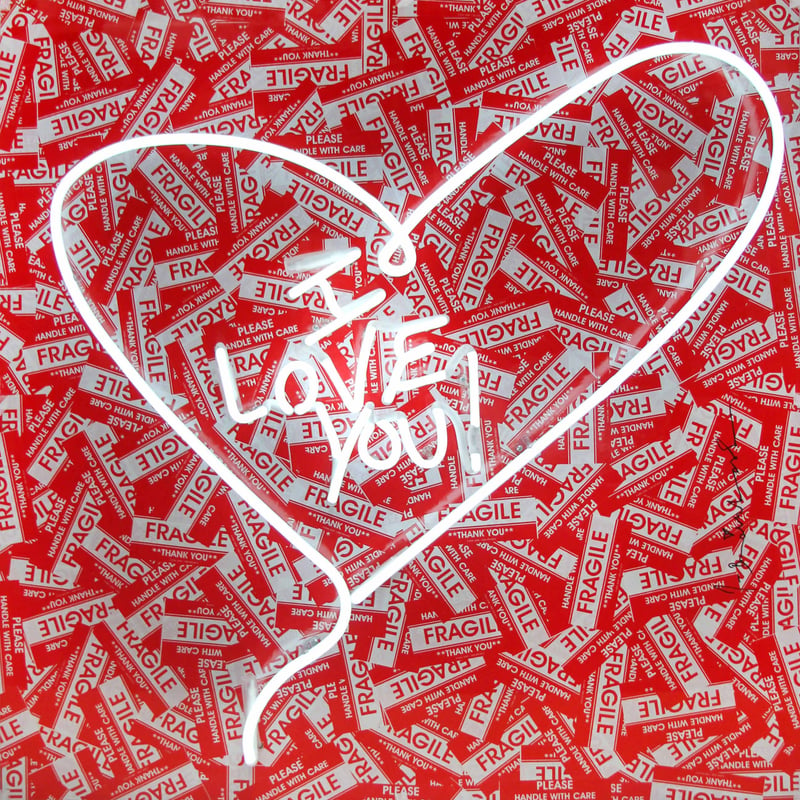 Love is Fragile, 2017
Neon lightbulb and stickers on plywood in plexiglass box - One of a kind original artwork
93cm x 93cm x 15cm
available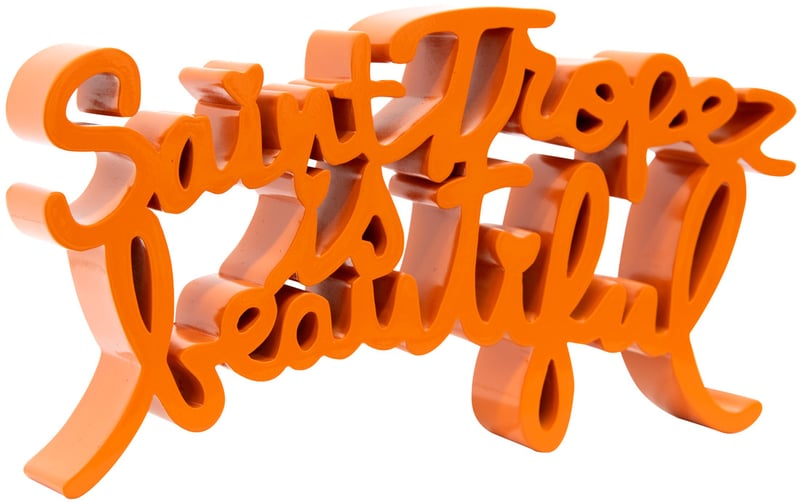 St. Tropez Is Beautiful - Tangerine, 2022 - small
Cast resine sculpture - Limited edition of 12 ex.
12cm x 23cm x 3cm
available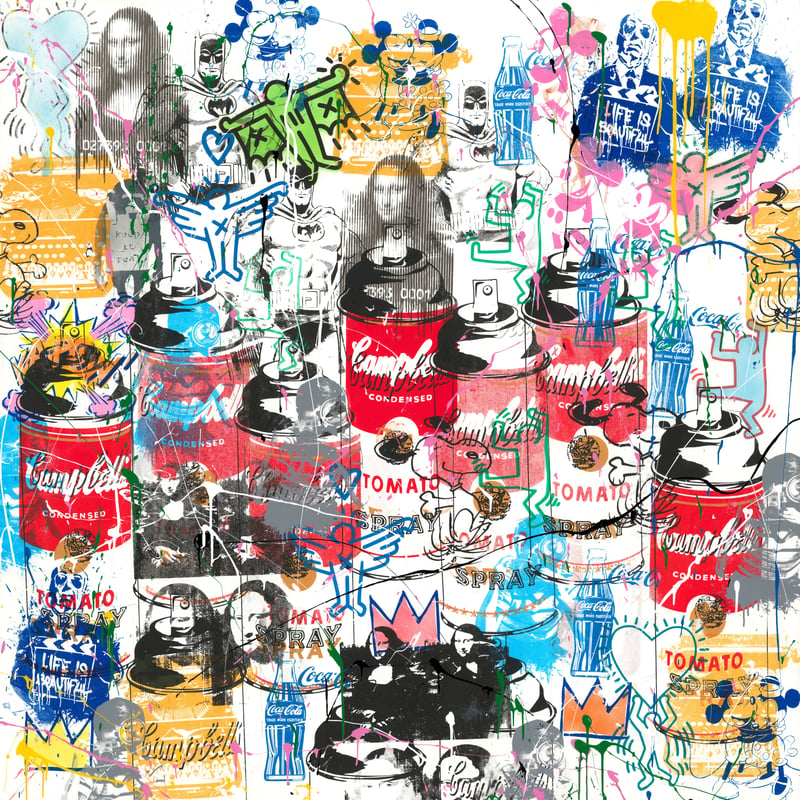 Pop Scene, 2019 (PS19022)
Mixed media on paper - One of a kind original artwork
148cm x 148cm
available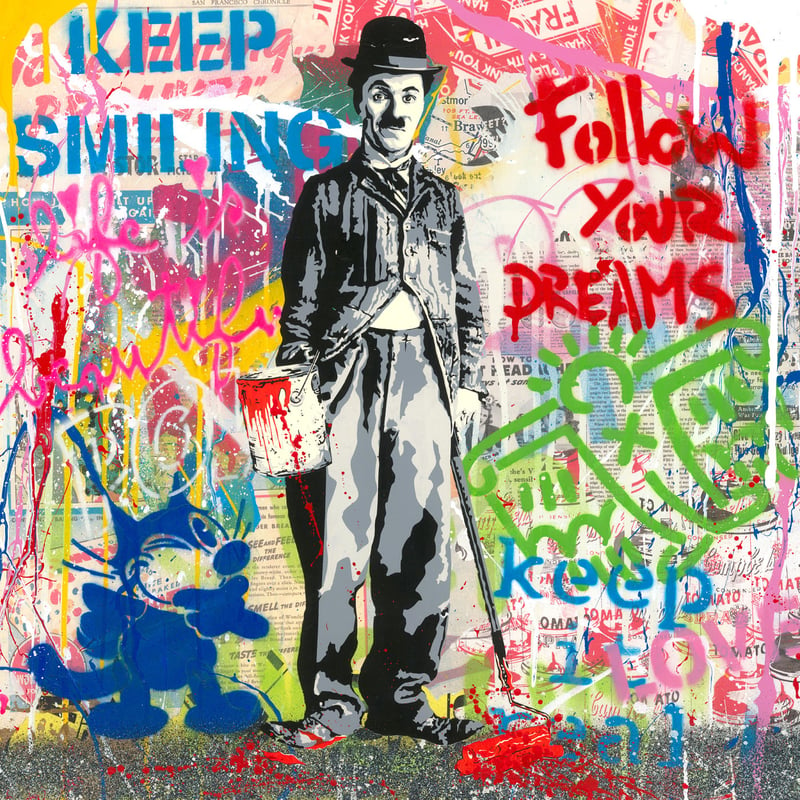 Chaplin, 2020 (P105117)
Silkscreen and mixed media on paper - One of a kind original artwork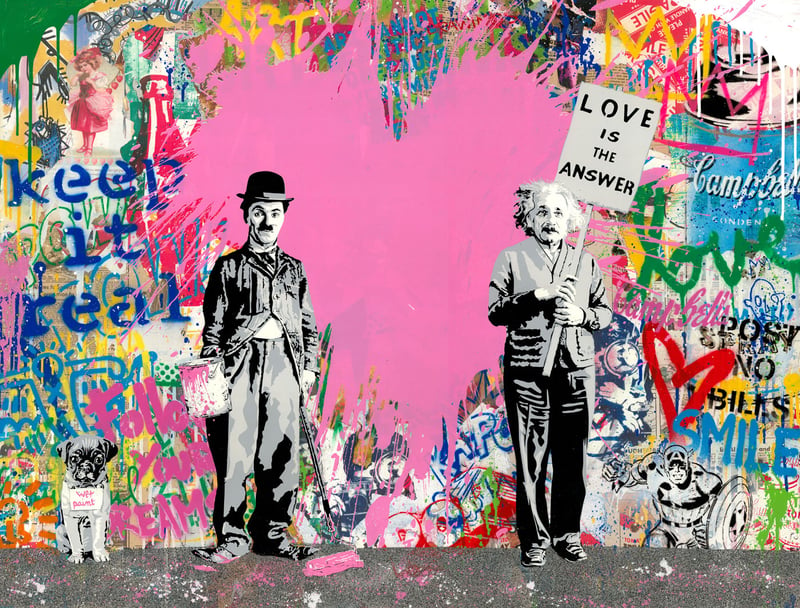 Juxtapose, 2021 (P106909)
Silkscreen and mixed media on paper - One of a kind original artwork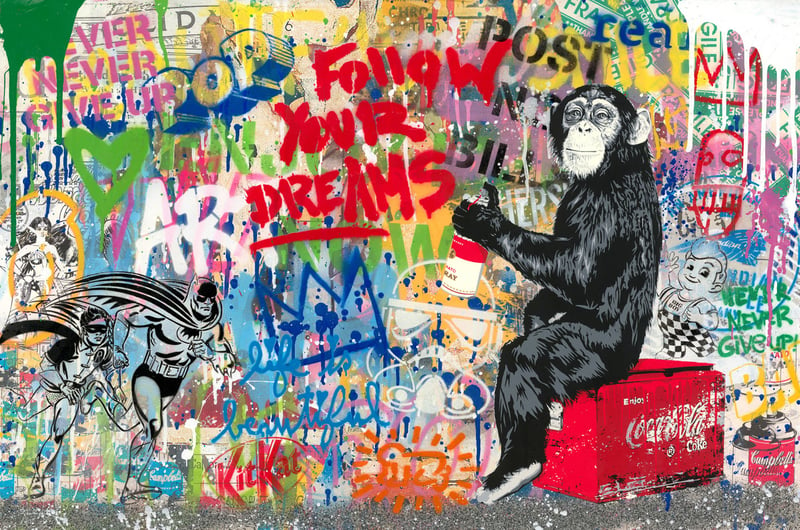 Everyday Life, 2021 (P107710)
Silkscreen and mixed media on paper - One of a kind original artwork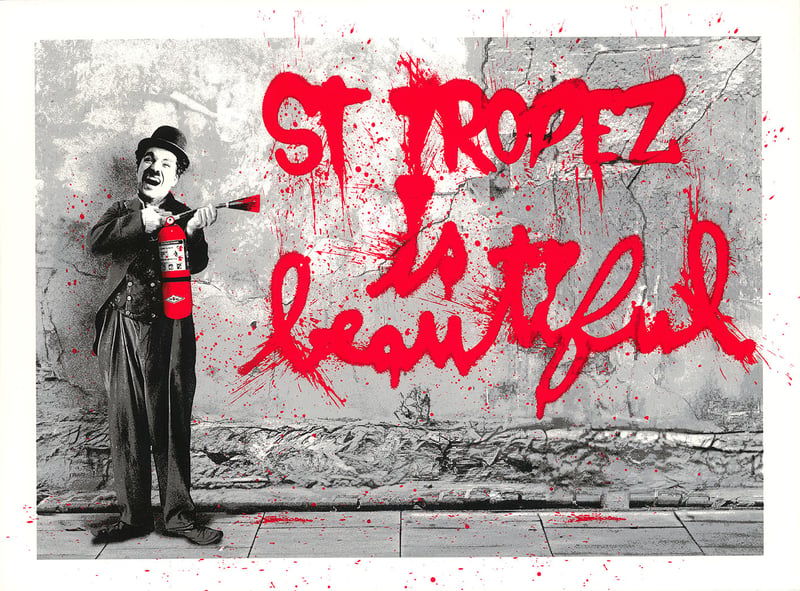 St. Tropez Is Beautiful (II) - Red, 2022
Silkscreen and mixed media on paper - Limited edition of 25 ex. + 2 AP
56cm x 76cm
available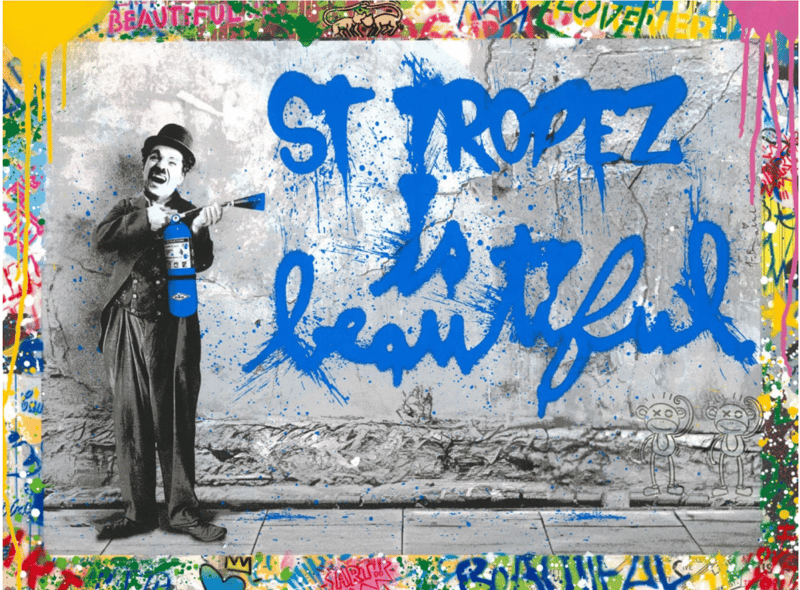 St. Tropez is Beautiful - Blue, 2022
Silkscreen and mixed media on paper - One of a kind original artwork
56cm x 76cm
available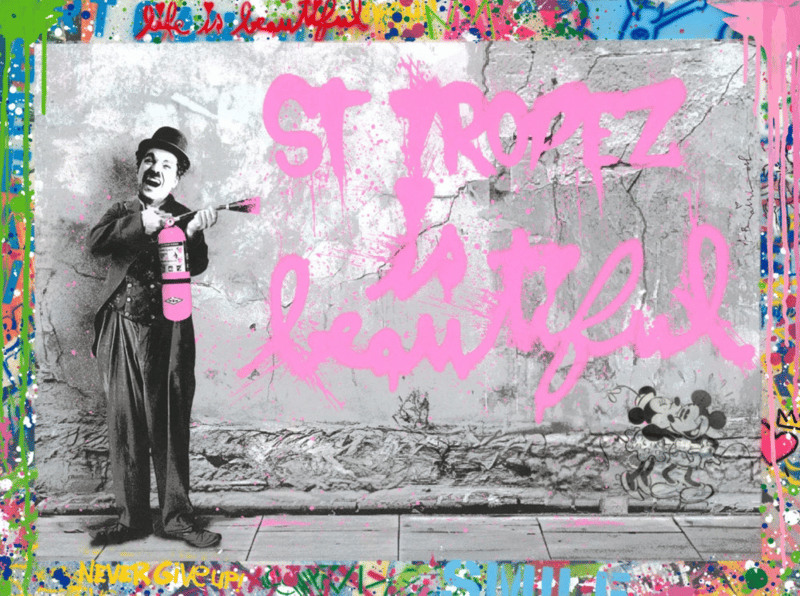 St. Tropez is Beautiful - Pink, 2022
Silkscreen and acrylic on paper - One of a kind original artwork
56cm x 76cm
available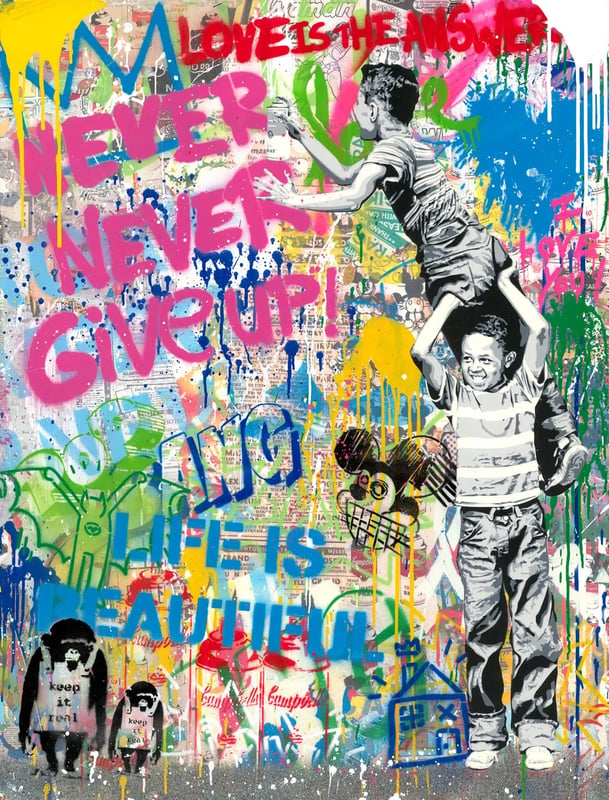 Never, never give up!, 2022 (P109665)
Silkscreen and mixed media on paper - One of a kind original artwork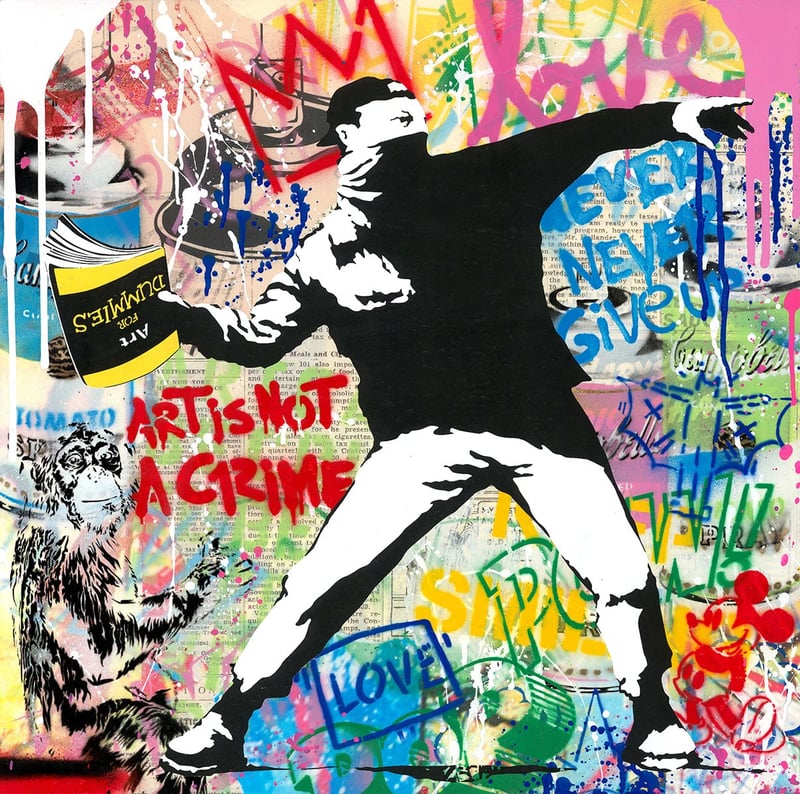 Banksy Thrower, 2022 (P109751)
Silkscreen and mixed media on paper - One of a kind original artwork
56cm x 56cm
available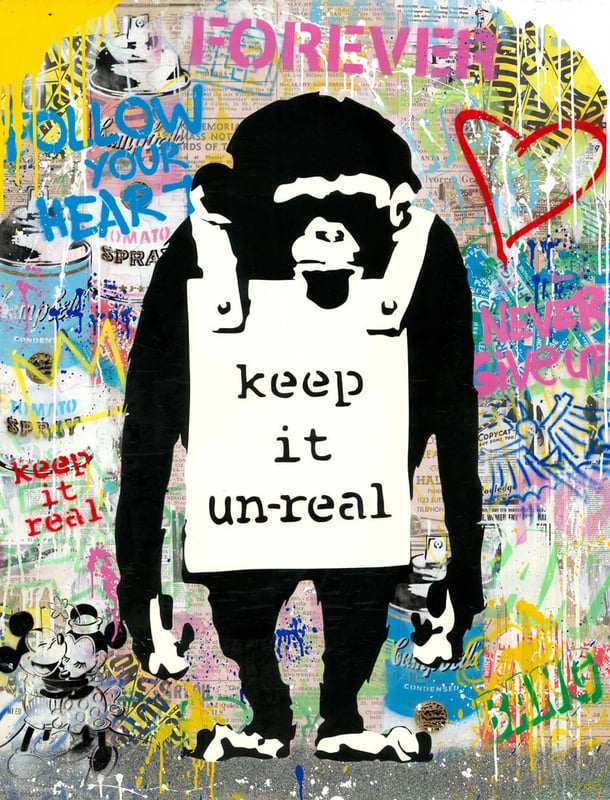 Keep it unreal, 2022 (P110076)
Silkscreen and mixed media on paper - One of a kind original artwork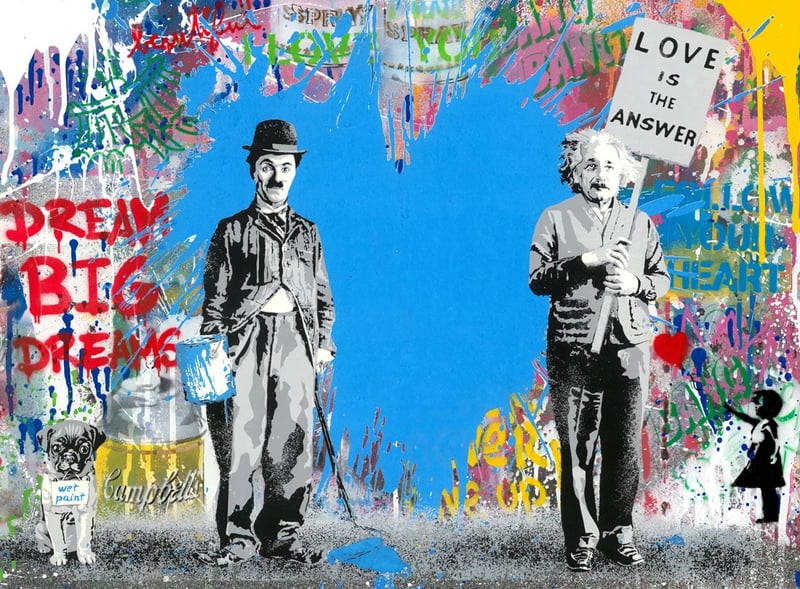 Juxtapose, 2022 (P110294)
Silkscreen and mixed media on paper - One of a kind original artwork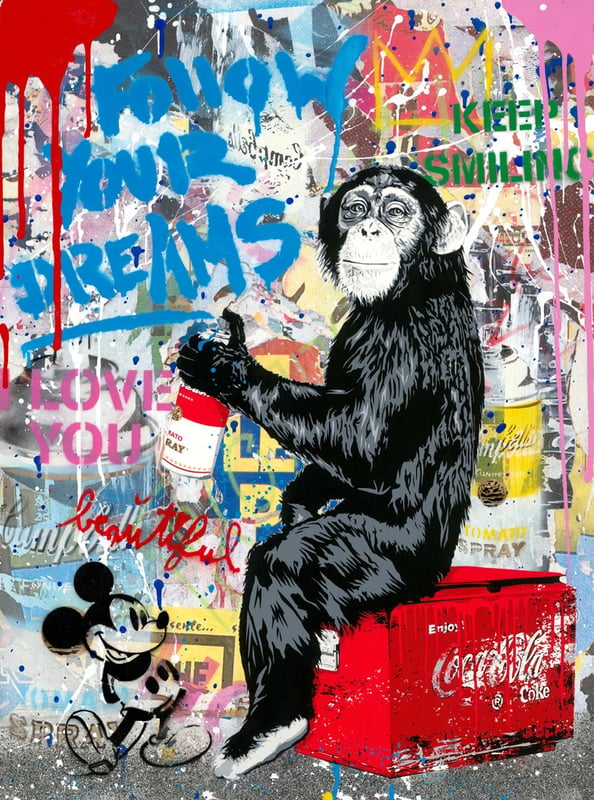 Everyday life, 2022 (P110335)
Silkscreen and mixed media on paper - One of a kind original artwork